Tai Zi Heen CNY Menu
Chinese New Year is exactly a week away. As we get busy preparing to celebrate the arrival of the Goat, we also had the opportunity to dine in true oriental tradition at Tai Zi Heen, KL.

The Submerryn family at Tai Zi Heen, Prince Hotel & Residence Kuala Lumpur
We were treated to a bounty of traditional reunion feasts of pork-free Cantonese fare. Toss to good fortune; the auspicious festive menu begin with the tossing of the "Yee Sang", the Chinese New Year must-have prosperity salad.
Four Seasons Prosperity Yee Sang.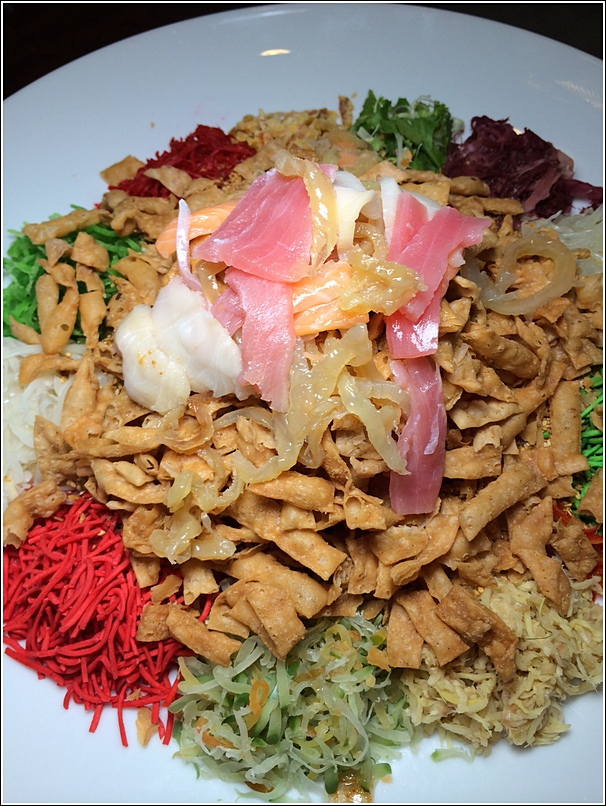 A harmonious combination of Butterfish, Salmon, Tuna and Jellyfish was the highlight that evening.
Tossing to a healthier and happier journey in 2015.
Double-boiled Chicken Broth with Whole Abalone, Dried Scallops, Bamboo Pith and Vegetables
We had this rich double-boiled chicken broth with dried scallops, bamboo pith and vegetables. The whole abalone gives this hearty soup a touch of luxury.
Braised Japanese Sun-Dried Shiitake Mushrooms with Dried Oysters and Fatt Choy
Next on the menu is also a must-have on any reunion dinner. No reunion dinner is complete without a fatt choy (black moss) dish. A symbol of prosperity, this is a much sought after weed as its homonym sounds like "struck it rich".
Baked Salmon Fillets with Honey and Onion Rings
For the fish dish, we had something out of the ordinary. Instead of the usual steamed fish, we had this awesomely baked salmon to my pleasure as I love salmon. The honey glaze gives the outer layer a lovely sweet crisp while the inside still moist and tender.
Moist and tender yet flaky enough for that perfect texture.
Twice-cooked Tea Smoked Duck with Spicy Mango Chutney
Next up is this smoked duck dish. First marinated then steamed, the duck is then smoked with Chinese tea leaf hence the 'twice-cooked'. I am not a fan of ducks but I am surprised that I actually like this. It doesn't have that usual duck meat smell and is actually very fragrant thanks to the aroma of tea leaf.
Wok-fried Rice with Diced Lobster, Tobiko and Bonito Flakes
After all the protein dishes, we welcome some much needed carbs into our diet with this fried rice with all the premium ingredients – diced lobsters, tobiko and bonito flakes (dried, smoked tuna).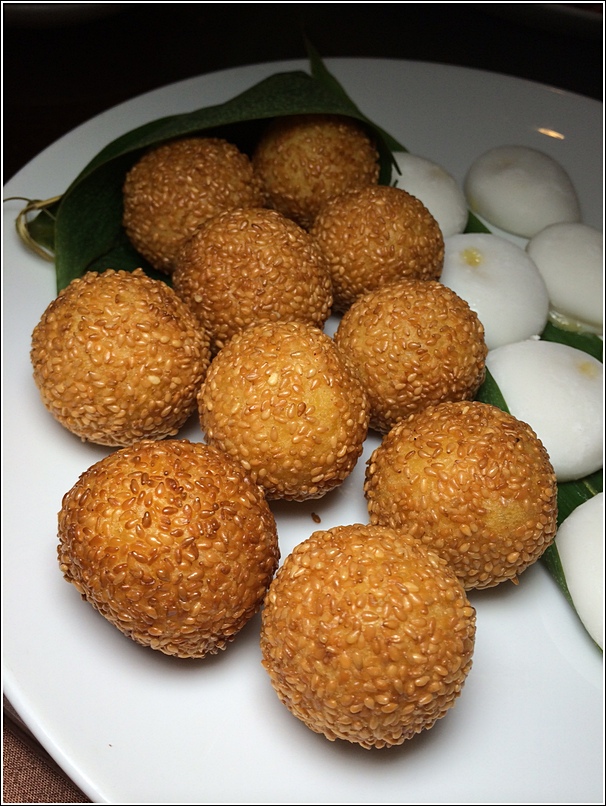 Crispy Deep-fried Sesame Balls with Salted Egg Yolk Custard and Durian Mochi
Dessert was awesome. It lingered in my mind until I made my way home and gone to bed. It appeared in my dreams…
Crispy Deep-fried Sesame Balls with Salted Egg Yolk Custard. It is my first time having salted egg yolk custard as the filling for sesame balls and I must say it's amazingly delicious. The runny and creamy egg custard filling flowed out into my mouth with each bite. It doesn't taste like the usual salted egg we eat with porridge though. It is nicer than that. It gives a savoury note to an otherwise sweet filling.
After that wonderful bite, I had this durian mochi and oh my goat.. *gimme a minute, I need to chew and swallow first* this is even more amazing! It's soft, sweet and simply delicious. I don't care if you don't like durians because I do. I not only like durian. I LOVE DURIANS! The mochi though is a tad too soft. I'd prefer for it to be a little more chewy.
The Chinese New Year set menus at Tai Zi Heen are priced at RM1488++, RM1888++ and RM2188++ for a table of 10 persons. Vegetarian options are available upon special request. 
For reservation, please call 03-2170 8888 ext 8200.