CNY feast at Ee Chinese Cuisine, Eastin Hotel Petaling Jaya
As we usher in the year of the Sheep, greater hopes and prosperity arrives to bring up the energy to us this Chinese New Year. Chinese New Year is all about families, friends and loved ones getting together under one roof for a favourably and promising moments.
It is our first time dining here at Ee Chinese Cuisine, Eastin Hotel Petaling Jaya.
The boys were really excited to be here. Eastin Hotel has always been one of my favourite business class hotel back from the days I was working in a travel agency. I always had clients requesting me to put them up here for their business trips. I remember I used to enjoy coming here to their Swez Brasserie for hi-tea. That was ages ago. It feels great to be back here at Eastin after so long.
The service here is top notch. We just requested for a baby chair for Ayden and immediately a luxuriously cushioned high-chair came complete with some cute and kid-friendly plate, bowl and cutleries. Look who's the happy one there?
We started off our feast with the traditional tossing of the Yee Sang to bring in greater luck.
Salmon with Rice Crackers "Yee Sang"
Beautifully crafted rosettes with delicate raw salmon petals makes a beautiful sight.
The boys and I tossing to a healthier and more prosperous year ahead.
Double Boiled Sun Dried Seafood Soup with Pigeon
Nostalgic classics such as double boiled soup is always a delight on a cold evening. We had this hearty double boiled sun dried seafood with pigeon to warm up our tummy to gear up for the next meal.
Up next was this stunningly beautiful oven baked live oyster with cheese. I love oysters but Darling doesn't like the taste of raw oyster. Imagine the delight on his face when this was served before him because another delicious style of having oyster with minimal fishy taste is by baking them and adding cheese to it for that added oomph. Simply irresistible.
This succulent Poached Capon Traditional Style was the delight of the elderly members that evening. They cleared this plate faster than I can take more pictures! I guess this dish reminds them of home. It was so nice to see their faces glowing with ecstasy when they see this. They all went, "Ayam Kampung!" Enough said.
I am a fish person so this Baked Cod Fish with Egg Caviar charmingly swept me off my feet. Cod is a lean fish that also happens to be a good source of omega 3 fatty acids.

The cod fish is baked perfectly until it is opaque and flakes easily with a fork and had a great texture; a nice crispy outer layer yet moist and tender on the inside.
We also had Braised Cabbage with Eight Treasures that provides a light counterpoint to the profusion of the endless richer dishes that evening.
Cut open the cabbage and precious treasures such as sea cucumber, lotus seed, fat choy (black fungus), mushroom, carrots, scallop and more came bursting out.
The next dish that was presented to us made our jaws dropped onto the table until I had to hold mine with my hand to keep it back in place…
Fried Rice with Seafood and Rice Crackers. What took our breathe away is the crown of generous ebiko on the rice. Just look at that! I feel like hugging it and rubbing them onto my face! LoL! This is actually a huge plate for the ten of us. I should have taken a picture of this next to a human to show how big it was :(
The rice crackers gave this fried rice an interesting crunchy feel at each bite.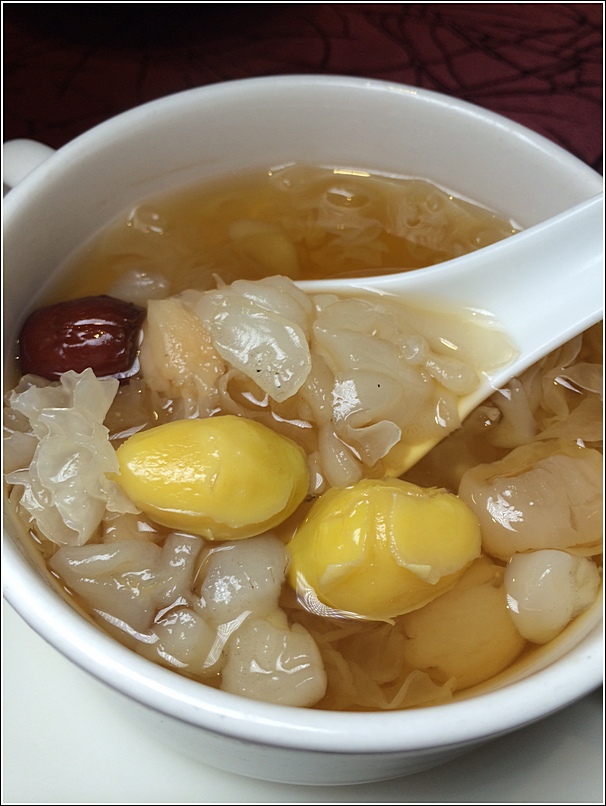 We ended our meal with this refreshing Double Boiled White Fungus, Gingko and Hasma served with Sweet Duet of Durian puffs and Crispy Nian Gao. 
Durian puffs and Crispy Nian Gao. Nian Gao is very important to me during any CNY meal. It kind of make or break the entire dining experience and the ones I had here lived up to its standard. It was such a pleasure biting into the crispy coat on the outside and gooey sweetness on the inside. 
BUT the durian puff was even better! It was so fragrant (or pungent to non-durian lovers) when it was served before us that I can't wait to grab one and tear it open, revealing a generous amount of golden custard. I took a bite of it and oh my, it was the creamiest and smoothest durian filling I've ever had. The durian monster in me was unleashed and I know they used real durian flesh to make the filling as I can see strands of durian fibres in it. This definitely steals the lime light that evening making it an even greater ending to an already wonderful dinner. 
You know I enjoyed myself very much when I am so generous with praises and my post became so wordy. LoL. But it was really a wonderful feast we had. 
Chinese New Year dinners at Ee Chinese Cuisine starts from RM538++ per table of 4 persons up to RM1888++ per table of 10 persons. Reunion dinner on 18 February 2015 with two varieties of set menus starts from RM2388++ per table of 10 persons.
For reservations and detailed menu, call 603-7665 1111 ext 137 & 138.
//
//
//
//

//

//

//

//

//

//

//

//

//

//

//

//

//