Trudy & Teddy new boutique opening in One Utama
I have always love Trudy & Teddy's timeless classic European style with a touch of modernity. I like their fine workmanship and their designs are simply outstanding.
I've been dressing Ethan up in Trudy & Teddy apparels since it was born in 2010. Ethan was three years old then.
* Archive picture of Ethan (3 years old) in Trudy & Teddy top to toe.
Imagine my delight when I saw that they will be opening a boutique in my second home, 1 Utama. It's my dream come true. Several days later, my heart skipped a beat when I received an invitation to their boutique launch. I was so excited. It's time to dress Ayden up in Trudy & Teddy too!
So there we were on the morning of 9th December at Level 2, Highstreet, 1 Utama Shopping Mall for the official opening launch of Trudy & Teddy boutique.
Adorable little Trudy & Teddy ambassadors during the ribbon cutting ceremony.
After the ribbon cutting ceremony, we were treated to a fashion show by the little ambassadors.
All of them look so fine and classy that I can't wait to start shopping for Ayden too! Immediately after the fashion show is over and as we cheered for those adorable ambassadors, I made my way into the boutique and started trying on clothes on Ayden.
The staffs at all Trudy & Teddy boutiques always impress me. They are always very helpful; never hesitating to lend a hand in dressing up my kid.
I am very surprise at Ayden. At only 15 months old he was shoe shopping like a pro, going around choosing his own shoes. I think he may grow up to be someone prominent in the shoe industry :P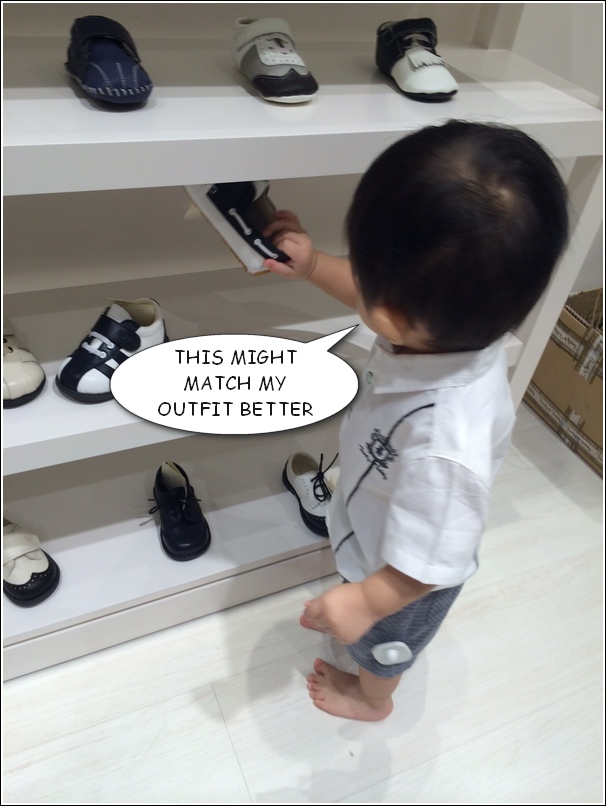 But first, he must learn to put on shoes into the right foot. Haha!
After trying on several assembles, we decided on these coordinate:
Trudy & Teddy Special Occasion assemble. My sister-in-law is getting married in two weeks so we are getting this specially for that special occasion. The top comes with a button-on bow tie. How cute.
Trudy & Teddy Smart Casual coordinate. I must say I super love their footwear. The look won't be complete without their good looking shoes. Ethan has 2 pairs of Trudy & Teddy footwear but they are still too big for Ayden as they are for kids aged 3 years old. They are still in very good condition though and I can't wait until Ayden is big enough to wear them. In the meantime, this will be Ayden's first pair of Trudy & Teddy footwear.
Oh he is not done shopping, going around barefooted in the boutique with a shopping bag in hand. I love this light blue sleeveless top on him. It comes with a button-on bow tie too.
While we were busy shopping, Ethan was kept entertained by the pretty ladies outside the boutique.
Ethan got his hand painted.
Ethan specifically chose panda because he knows Ayden loves pandas. So sweet and thoughtful of him.
This is our purchase. All of the above for RM305 only as they were all on 10% discount. Ayden is so ready for Christmas.
For more information on Trudy & Teddy, do follow their social medias:
–              www.facebook.com/trudynteddy
–              www.instagram.com/trudynteddy_malaysia
Related Posts