Craft lessons during the holidays
I am very fortunate as I have a great Whatsapp group that consists of Ethan's classmates' moms. One of the mom initiated it and slowly but surely we help to add other mothers we got to know along the way. They have been very supportive throughout Ethan's Primary One journey. We checked with each other if we were unsure regarding their homework or anything school related.
Before the school holidays, I suggested that the kids should continue meeting up once in a while to avoid boredom. I even volunteered to hold a craft class for them provided that one of the mommies can volunteer their homes for the kids (as my house is too messy :P). One of the mommy was kind enough to offer her hubby's tuition centre for us to use. With the venue confirmed, we then decided on the date and time.
I had to think of a craft for the kids and I thought making a Minion Pencil Holder will be fun even though Ethan is not a fan of that yellow creature. I did some preparation before the actual day so that it will be easier for the kids later.
I glued large toilet paper rolls onto a piece of thick corrugated paper. Actually I just used recycled boxes lah.. 
Once dry, I cut them.
I also cut smaller toilet paper rolls for the minion's goggles and prepared colored paper, paper glue and scissors for the kids.
Finally after a week of holidays, the kids met up again in the tuition centre.I invited our best friend Jonathan and his Daddy Kimmy to join us too. Oh, Ayden tagged along and I was confident that he'll be okay as he usually is BUT I was wrong. He was okay the first few minutes, letting Uncle Kimmy accompany him but soon got restless and started crying and being very clingy. Thank goodness for some of the mommies that accompanied their child there. They took over the class like a pro!
The mommies helped distributed the colored paper, supervised the kids cutting papers and even lend a helping hand should the kids needed them.
But the kids did great. They were independent most of the time. They were able to do most of the craft on their own. 

I also prepared a template for the minion's blue overall and all the kids needed to do was to draw the outline and cut. 
A minion's blue overall work in progress :D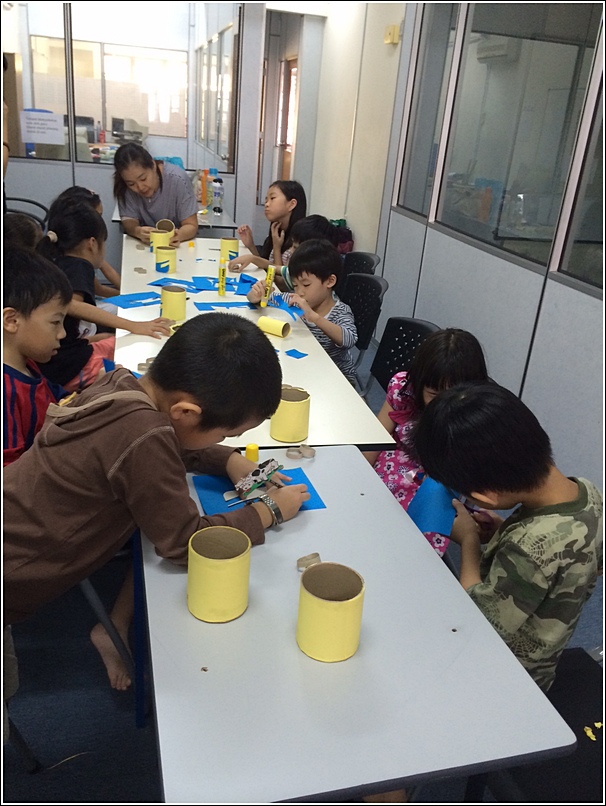 The children in action. 
Here is Ethan gluing the goggles. 
Last but not least, they cut and paste the eyes and the goggles strap and the minion pencil holder is done. 
She knows her minion well. She insisted to have the ONE eyed minion instead of two. 
Ethan's classmates with their minion. All done in an hour under the supervision of the mommies (and Daddy Kimmy) there while I hid in a dark room to nurse Ayden who finally fell asleep after the kids are done >_<
Are we not lucky to have such supportive mothers? When Ethan first started Primary One, never in my dreams that the mommies will be able to get together in a group to update each other on our kids' well-being but we have it now and we will continue to support each other next year as the children will still remain together in the same class :)
Thank you mommies and daddies for making today possible.