Ding Ding Grill Fish Steamboat @ Private Kitchen, SS2 Chow Yang
Last Friday, we met up with some friends to try out the new Ding Ding Grill Fish Steamboat at Private Kitchen, SS2 Chow Yang. Private Kitchen is situated at the same row with Kayu Nasi Kandar. The grill fish steamboat concept is something new to me. Fish grilled till it is 70% cooked and then added into the steamboat soup…. The result? Amazingly delicious steamboat broth! Slurp!
Ding Ding Grill Fish Steamboat
Fragrant Spicy Soup Base
There's japanese cucumber, big head beansprout (Korean type of beansprout), tofu pok and white radish in the soup base. The white radish is served separately in case some of us are on medication or ginseng and supposed to avoid it so we can omit that out.
There's a whole fish in the soup. One side was grilled until it is 70% cooked while the other side is still raw. You'll have to wait around 10 minutes for it to boil together with the soup and then dig in.
Tomato and Sweet Corn Soup Base
The same goes for the tomato and sweet corn soup. Same basic ingredients with a huge fish in it too.
Can you see the fish now? I had fun eating fish the entire night but there were 10 adults in our group that night. We took two tables with each table having those 2 types of steamboat broth and ordered a table full of ala carte items.
Items from the ala carte menu.
Ala carte menu.
Let's see what I remember having. I was not the one placing the order so I just agak-agak what we had lah okay?
This has definitely got to be the pork belly slice and they disappeared as soon as they are cooked! Luckily I managed to eat ONE! Haha! Terrible my friends. Eat pork belly like piranha!
Dumplings…  Obviously I'm not too sure what dumpling this is. Hmm… I don't remember having a bite of those… Maybe it was 'sapu-ed' by everyone else that night before I manage to fish it out *knock head*
This I know! Homemade Pork Balls to die for! I had 4! No need shy shy I tell you. I had 4! A petite person like me can eat 4 of those huge pork balls, imagine that!
Another of my favourite – Sea Urchin Balls. I was caught by surprise when I bit it and it popped! Hot liquid burst in my mouth…  -.-
This is what it looked like inside the sea urchin ball. I had 3 of those. *thumbs up*
Sotong Ball. I had one because by now my stomach going to burst dy. Ethan had 2.
Who can tell me what these are? LoL! Just kidding. Of course I know lah.. Pork Wanton! Eat until lost count coz so nice so smooth..
Prawns. Fresh, fresh prawns! Darling had most of them coz I was too lazy to peel but Darling so sweet peeled some for me and placed them on my plate. Aww… <3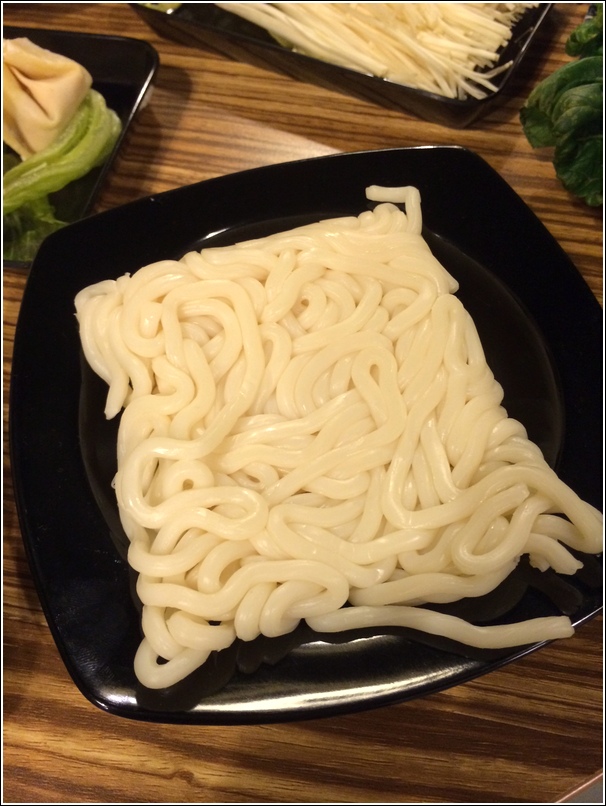 This Udon is specially ordered for Ethan. That boy needs to have either noodles or rice each time we dine so that night, he ate this.
Ethan's bowl of Udon and everything inside. Quite messy but very delicious. The sweet corn and tomato soup is extremely sedap by now coz the sweetness from the fish and all the other ingredients blended in already.
Ayden had some Udon too from the sweet corn and tomato soup. 
Though I love spicy food, I am surprised that I actually prefer the Sweet Corn and Tomato Soup here. The Fragrant Spicy Soup base is alright but if you ask me to choose, I'll definitely go for the Sweet Corn and Tomato Soup. We kept requesting for a refill of the soup that they ended up leaving the pot to us. *hides face*
We also ordered the Fragrant Spicy Chicken Pot.
Tender and nice but I can actually do without it because I was enjoying the steamboat so much, this seems like irrelevant. The rest of the guys begged to differ though. They loved this a lot that they cleared it instantly. Men… 
That's the joy of dining with a big group of friends though. We get to try a wider variety of food. 
If you are planning to try out this Ding Ding Grill Fish Steamboat, print out the flyer below to get 20% discount. We did the same, just print and present it to them before you make your payment. 
Related Posts
//

//

//

//

//

//

//
//
//

//

//
//