七星班 Seven Star Grouper feast at Mei Six Hin, Prima Sri Gombak
Last night, my kids had the shock of their lives when a fish bigger than Ayden landed on our dinner table. It was Malaysia Day and since it was a holiday, my foodie friends planned to have dinner together. My friends made prior reservations (2 days) for our dinner. Let me tell you our story…
At Mei Six Hin in Prima Sri Gombak, you can just call up at least 2 days in advance to make reservations to feast on 七星班 Seven Star Grouper cooked 4 ways by Chef Steven.
Without a warning, a whopping 6kg 七星班 Seven Star Grouper was placed right in front of us. Ethan's jaw dropped onto the table until Darling had to help to hold it up again! The boys' expressions said it all. We were all stunned! Seriously I've never eaten a fish so big..
The 七星班 Seven Star Grouper was then brought back into the kitchen and after about half an hour or so, our dishes are ready to be eaten.
Our first dish was a very rich Double-boiled 七星班 Seven Star Grouper Fish Head Herbal Soup. It came in a huge ceramic soup bowl filled with double-boiled pan seared fish head and bones, nutritious herbs, red dates, chinese wolfberries, dry sugar cane and more. It was very tasty and warmed up our stomachs for the next dish. The serving was quite huge that all of us managed to get a second helping of this soup.
From the head we moved on to the next dish, the tail. 七星班 Seven Star Grouper Fish Roll with Sweet Pea. Pieces of sliced meat from the end of the tail were rolled with sweet pea as the core; steamed and flooded with generous thickened Chinese brown sauce. The sauce was a hit with the kids. They drenched their steamed white rice with it.
Next up is Pan Fried 七星班 Seven Star Grouper with honey lemon sauce. The fish itself was beautifully done, crispy on the outside, tender and moist on the insides. Makes a perfect bite. The combination of honey, lemon and calamansi give this dish an uplifting aroma, tantalizing your palate for more!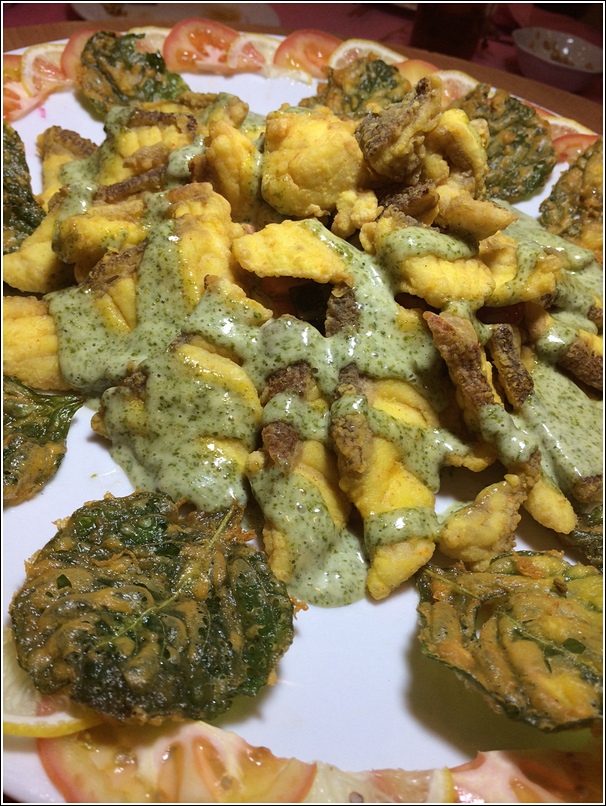 The fourth dish makes us reach food orgasm! LoL! Golden 七星班 Seven Star Grouper Fillet with Mint Sauce. Huge and chunky pieces of sliced fish crisply fried and drizzled with mayomint sauce. Beneath those fish fillet lays a treasure of refreshing cold salad.
Cold salad for a satisfying end to our 4 ways 七星班 Seven Star Grouper meal. 
Priced at RM120/kg inclusive of cooking of 4 types of fish dishes, it is highly recommended to dine in a group instead of individually as they require a minimum weight (fish) of 4kg to proceed. Our fish is 6kg so that brings it to RM720 for the 9 adults and 2 kids making it around RM72/per pax for this feast fit for a King. 
We also ordered their signature dish, the Shanghai Style Chili Chicken as we read so much about it and a plate of braised noodles as the kids requested for it. 
Braised Noodles "Mun Yee Mein"
It was a very satisfying dinner. I can now proudly proclaim that I've eaten 七星班 Seven Star Grouper and that it doesn't cost an arm and a leg for a lavish feast such as this.
Restaurant Mei Six Hin
NO.G-62, Jalan Prima SG 3/1,
Prima Sri Gombak,
68100 Selangor.
Tel No:012-359 3109 (Steven) / 017-279 9927 (Winnie)
//

//

//

//

//

//

//

//

//

//

//

//

//

//

//
//