Cinnamon Coffee House, One World Hotel
We had dinner at the award-winning Cinnamon Coffee House, One World Hotel last week. Themed 'Aroma Semenanjung' it presents a taste of Malaysia Truly Asia, featuring multi-ethnic delicacies of Malay, Indian, Chinese, Nyonya and Eurasian offering a diverse menu of over 100 varieties each day.
We love dining in Cinnamon Coffee House as it is very spacious. We can bring in Ayden's stroller easily and there is ample of space to walk about without knocking into other diners. 
Such a welcoming sight at the entrance of Cinnamon Coffee House. Makes you miss kampung all the more isn't it? Dodol anyone?

Such a pretty roasted whole lamb.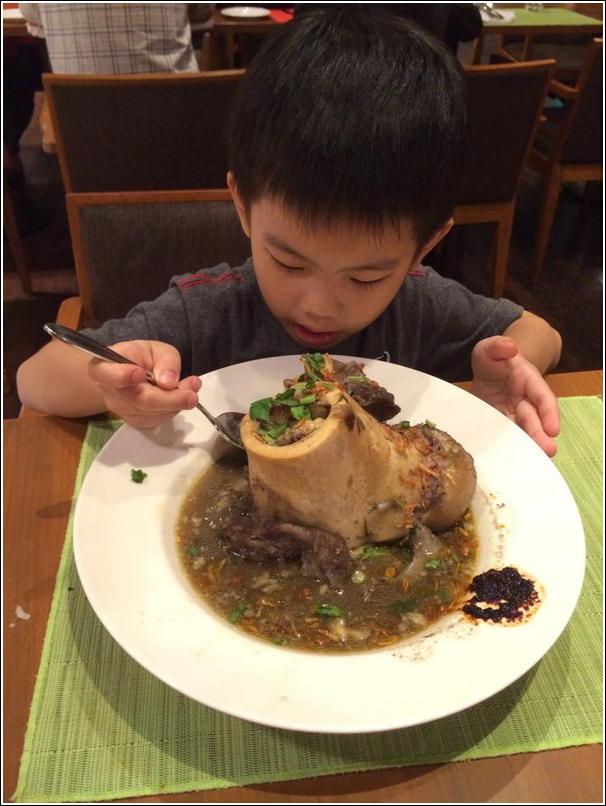 Sup Gearbox
The tulang in the sup gearbox here is so gigantic I had to get them help me carry this to my table.
Look at what's inside! 1,2,3 together now… Squeals in delight! They don't call this bone-marrow soup for nothing! 
Ethan ordering his soup noodles from the live station.
He loves the tasty soup noodles here. We've dined here numerous times and Ethan will without fail eat this soup noodles and also the spaghetti from the pasta station.
Spaghetti from the Pasta Station. Look at Ethan being tempted with Ais Krim Potong in the middle of dinner! One of our friends casually placed that ice-cream next to him. Naughty fella!
I on the other hand, will always go for their Mee Goreng. So sedap, just look at them prawns!
It is Ayden's first time here at the coffee house. He had mashed banana from the fruit counter. 
My Yong Tau Foo. I can never say no to their YTF and tasty broth.
I also had the chance to indulge in their Sotong Kangkung. 
Ketupat and lemang.
Serunding to go with ketupat and lemang.
One thing I love about Cinnamon Coffee House is their huge Japanese counter and fresh sashimi. Always a must-have at my every visit.
There are many more scrumptious delights that you must not miss such as Nasi Pelangi, Daging Kulai Kawah, Ayam Percik, Puyuh Goreng Berempah, and Ikan Patin Masak Tempoyak just to name a few. Other dishes offered in the buffet include Bubur Lambuk, Mee Udang, Sate, Daging Sumor, Rendang Tok Gunung Rapat, Sotong Kalio Batawi, Sayur Lemak Nangka and the list goes on. 
Ethan helping himself to unlimited ice-creams -.-
My bowl of ice-cream with fresh durian flesh toppings! Woo hoo! Actually the durian flesh is for the durian sticky rice but I am you know, too creative :P
Durian Sticky Rice
Myriad of mouthwatering local desserts.
Daily buffet dinner starts from 6.30pm – 10.30pm and priced at RM128++ for adult and RM64++ for children aged 4-12 years from 28 June to 27 July 2014. For enquiries or reservations, please call 603-7681 1157.