10 Crab Flavours Buffet
Chatz Brasserie PARKROYAL KL is well-known for their quality buffets especially their weekend Seafood Buffet Dinner. I remember clearly last October right after my confinement, we brought little Ayden for his first makan outing to non-other than Chatz for the Seafood Buffet Dinner. Let me share a picture of Ethan enjoying the fresh prawns that he caught back then:
Those prawns were so fresh and good that he refused to share. Click here to read the rest of the entry.
Fast forward to present, we were back there again yesterday as crustacean ruled the buffet spread. Fresh crabs take centre stage at the weekend Seafood Buffet Dinner at Chatz Brasserie Restaurant, complemented with their signature unlimited refills of freshly squeezed fruit and vegetable juice. 
Star dishes such as Kam Heong Crab, Butter Meat Crab, Wok-fried Meat Crab with Salted Egg, Wok-fried Chili Meat Crab, Steamed Crab with Egg White and Blue Flower Crab Masak Lemak Nenas got us excited! I've never seen so many crabs with so many types of cooking gathered at the same place at any one time, it simply blew me away!

Some of the 10 mouth-watering crab flavours.
Ethan and his favourite Buttered Crab.
That's me trying to help Ethan break the crab's claw. Looking back at my pictures, I just realised that we forgotten to wear our protective 'bips' while the rest of the diners did. Thank goodness I did not get any crab juice splattered on my clothes :D
Let's take a look at the 10 crab flavours that you can eat till you drop: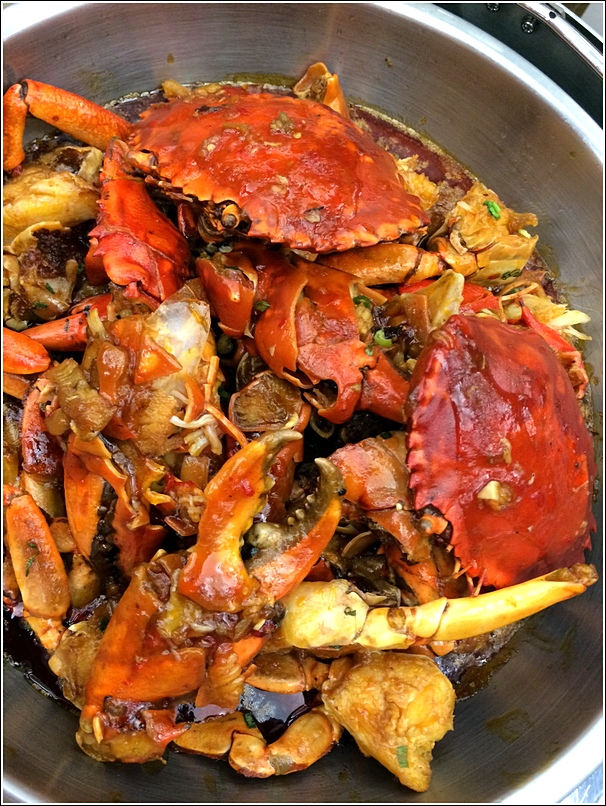 Wok fried chili meat crab
Steamed Crab with Egg White
Kam Heong Crab
Wok-fried Meat Crab with Salted Egg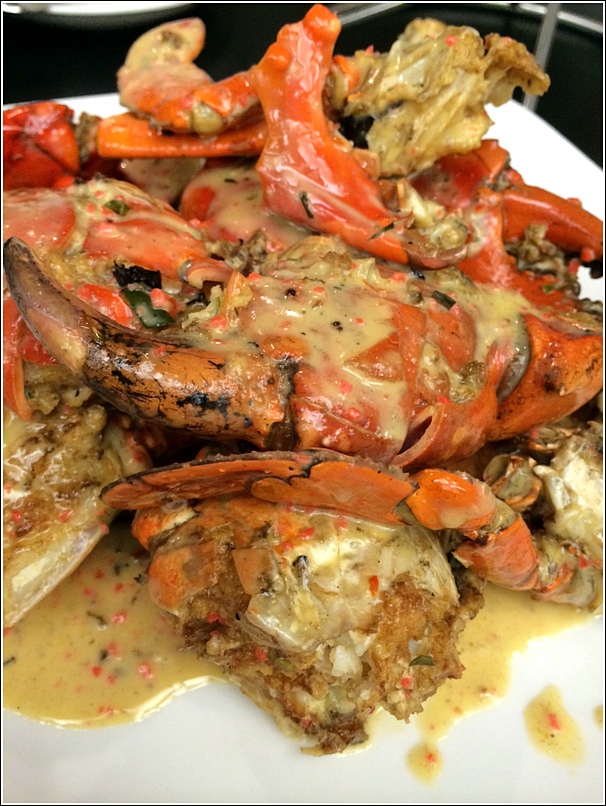 Butter Meat Crab
Sweet and Sour Meat Crab
Blue Flower Crab Masak Lemak Nenas
Fried Blue Flower Crab with Spices
Deep-fried Soft Shell Crab
Wok-fried Crab in Marmite Sauce
Mantou
I love the mantou. I kept dipping it in so many sauces from the crab dish. I especially love it with the chili meat crab sauce.
Ten flavours of crabs. TEN! LoL I don't know how to describe them anymore as I lost track after the fifth flavour. I love them all but of course there are a few that stands out from the rest. To my surprise, the classic Steamed Crab with Egg White tops the list. Simply done, it lets you  enjoy the natural sweetness of the crab as it is. 
The fragrant Salted Egg crab is also one of my favourite as the sweetness of the crab is nicely complemented by the rich and flavorful salted egg. Marmite crab also came out tops in my list as well as Darling's. But among all of those 10 crab flavours, I think I ate the deep-fried soft shell crab the most. You want to know why? Simply because I did not have to peel them! I can simply pop them in my mouth.
I tell you the truth, leave your baby with a baby-sitter if you plan to go for this CRAB Buffet. With Ayden around I did not get to fully indulge and get my face soaked in crab juice. I love eating crab until I am all covered in crab sauce, roe and all. They make good facial ingredients! LoL! >_<
But Darling was so nice. He helped me dig out the crab meat and placed them on my plate so I can eat too. 
I think I can get used to this hassle-free way of eating crabs. Easy and no fuss. Thank you Darling! :)
Besides those 10 featured crabs above, there are also Mud Crab, Blue Ocean Crab and Sri Lankan Crab from the Seafood on Ice counter. In the Japanese selection, there is Soba or Udon Noodles with crabmeat, maguro, seaweed and spinach. 
There's also Crabmeat Soup for soup lovers such as me and Ethan. At the noodles station, there are selections such as Prawn and Crabmeat Noodles and Tomyam Crab Noodles Soup. Dim Sum enthusiasts can also look out for the Crabstick Seaweed Roll.
We also got to dig into this steamed fish from their aquarium. 
What I like about dining at Chatz is their Juice Bar where we get to enjoy unlimited refills of freshly squeezed fruit and vegetable juice. Take my advise and go for the dragon fruit juice for this CRAB buffet as dragon fruit is known to help control cholesterol. With so much crab eaten, we need to balance the ying and yang! Hahaha!
Seafood Buffet Dinner : 10 Crab Flavours is available from 6.30pm to 10.30pm, promotional price at RM85 nett per adult (normal price RM115 nett) and RM57.50 nett per child from 1 to 30 August 2014.
For reservations or enquiries, please call 03 2147 0088 or email [email protected]
//
//
//
//
//
//
//
//
//
//