Sushi Zanmai @ Sunway Pyramid
When it comes to choosing a place to eat, there are 2 types of people in this world. One who will go to eateries with the longest queue and join the line and the other who will enter the almost empty eatery so he/she will get served immediately. The person who joins the longest queue does so because he believes it is worth queuing because there is good food waiting for him in there; hence the long queue.
I am, unfortunately, the 'other person' who goes into any eatery provided there is a vacant seat for us as I dislike waiting especially with two kids in tow. But all that changed last weekend. I've heard so much about Sushi Zanmai but has never stepped foot there because of the most obvious reason… the QUEUE!
It was the school holidays and we were in Sunway Pyramid. Ethan said he was craving for sushi so I suggested Sushi Zanmai but lo and behold, look at that queue!
Luckily we were told that we do not need to wait long as the queue is moving rather quickly. Darling and Ethan queued while I brought Ayden to the nursing room and once we were done, it was already our turn! Yeay!
It doesn't look too spacious from outside but once inside, whoa, I'm impressed! We did not sit here though. We were given a private room since we have a baby in a stroller.
We began our late lunch with my favourite salmon sashimi.
Fresh Salmon Sashimi (Large) RM15.00
Just look at how fresh it is. The colour and texture is just perfect!
AburiZanmai (RM13.80)
We ordered this assorted broiled sushi of salmon, scallop, prawn, cuttlefish, omelette with cod roe and oyster to share but Ethan had most of them. Most of the items here are half grilled.
Darling also ordered this Mentaiko Spider Roll (RM13.80).
Deep fried soft shell crab rolled in nori sheet and rice. Wrapped in Vietnamese spring roll skin and topped with avocado and cod roe mayonnaise. We super love this and will definitely order this again on our future visit.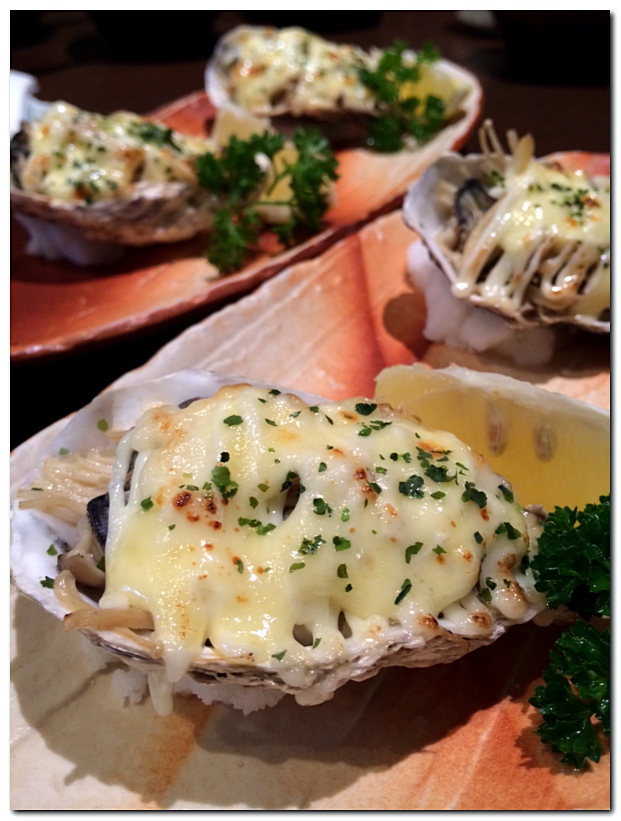 I had this Kaki Cheese Yaki (RM6.80)
Fresh juicy oyster grilled with cheese.
It had stir-fried enoki and shitake mushrooms in it. Topped with oyster and mozzarella cheese and grilled. The cheese compliments the oyster perfectly!
For our main dish, we had spicy ramen and rice.
Spicy Ramen (Large) RM19.80
It's ramen noodles with kimchi-based soup. To me, this is pretty mild as I'm a hardcore spicy fan but it suits Darling well.
Seafood Treasure RM15.80
What was meant to be Darling's ended up being mine because he ate my kimchi noodles. I love this nutritious hot pot of prawn, scallop, oyster, cod fish, abalone mushroom and broccoli served with a bowl of rice.
Ethan's 'main' dish is this Choco Banana Parfait (RM15.00)
LoL just kidding. Ethan shared my rice with seafood treasure and the 3 of us shared this vanilla and chocolate ice cream with cookie crunch, corn flakes and chocolate sauce, topped with sliced banana.
Ethan had a fun time digging in. It has been quite some time since we last lazed around and ate to our hearts' content. Since the beginning of this year, Ethan had been very busy with school and all his extra activities we hardly have time to sit back and enjoy our meal.
Today we realised that no matter how busy we are, it is very important to have some time to relax and eat without any rush. A family that eats together, stays together.
Related Posts
//

//

//

//

//

//

//

//

//

//

//

//

//

//

//

//

//
//
//