Blood in Poo
We got a huge scare yesterday when during diaper change, I noticed blood in Ayden's stool. I've never encounter this with Ethan so when it happens to Ayden it triggers a panic attack. Anything with blood will cause my heart to palpitate. The first thing I do was to call Darling that made him rush back home immediately.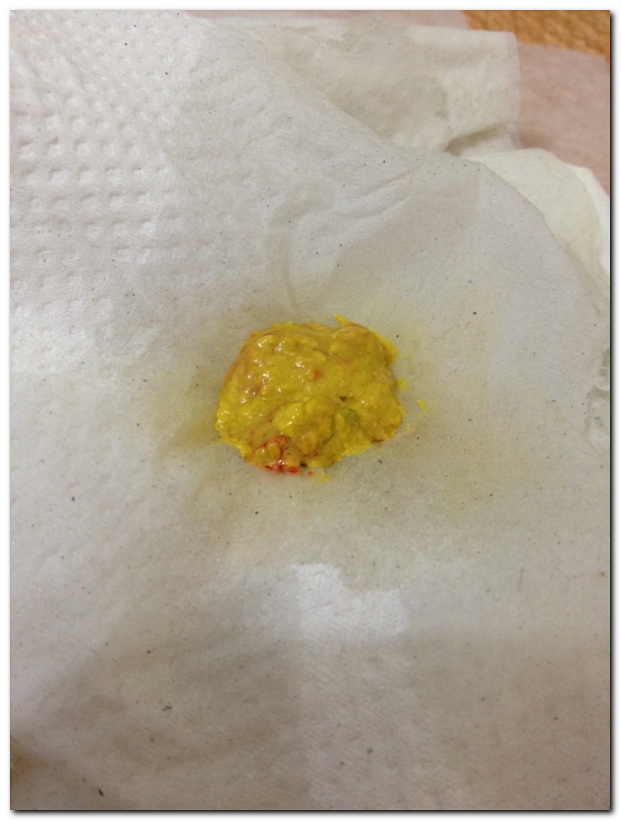 While waiting for Darling, I posted the above picture on a Mommy group in Facebook. Thank goodness for this Mommy group as the members try giving their two cents worth of what might cause the blood and what I should do. One of the member told me, "As long as blood is bright red means new blood. Not so scary. If blood is dark then means travelling from further up and would be more scary. Just ask doc to check the anus hole. Sometimes small scratch or tear can cause blood."
That brought a sense of temporary relief for me as what she said makes sense. Nevertheless Darling got home and we brought Ayden to the paed. Sure enough, the paed said the same thing after checking on Ayden. The fact that Ayden poo a lot due to breast feeding might cause a scratch or tear around the anus area and that sometimes draws blood. It is nothing to be alarmed of but we are told to monitor his condition for the next two days. No medication needed.
The paed also told for us to apply nappy rash cream on Ayden which we have already been doing since he was born. With Ethan we used Pureen nappy rash cream so we continued the same with Ayden. The hospital that I delivered Ayden, Tropicana Medical Centre gave us a sample of Sudocrem nappy rash cream when he was born but I've not used it and only placed it in the travel bag but now our paed recommends that we use that instead so we did. He passed motion many times after that and they are all without blood anymore. I am sooooooooooo relieved! 
Now that the scary part is over, let me share with you again this poo comic in case you missed it last time :P
//
//
//

//

//
//
//
//
//

//

//
//