Confinement Red Dates Tea
When I gave birth to Ethan six years ago, I remembered boiling red dates and dried wolfberry tea every single day during the first week of confinement. It is believed red dates tea can help increase breast milk supply as well as nourish our blood.
Naturally when I gave birth to Ayden recently, I wanted to drink the same thing again but this time, I was told to add more ingredient in it. I was also told to drink this instead of water for the entire month! @_@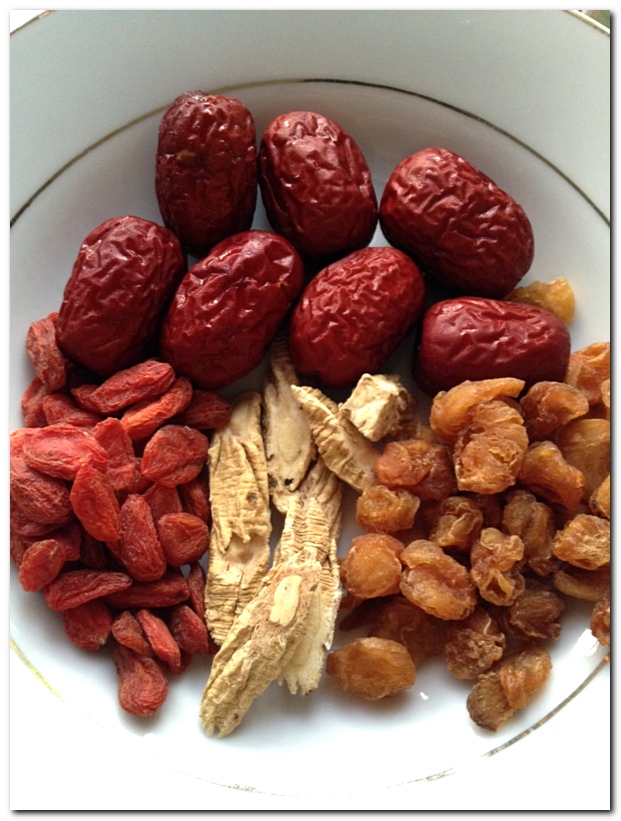 Red Dates, Dried Wolfberry Fruit, Radix Codonopsis and Dried Shelled Longan
Confinement Radix Codonopsis and Red Dates Tea
Radix Codonopsis – 60 gm (Effective against asthma polydipsia, fever, spontaneous sweating and metrorrhagia)
Red Dates – 60 gm (Invigorating blood, reduces frequent urination and nourishes complexion)
Dried Wolfberry Fruit – 20 gm (High in antioxidants, calcium, iron, zinc and vitamins, help fight diseases, reduce the risk of kidney and liver conditions)
Dried Shelled Longan – 20 gm (Nourishing spleen, invigorating blood and tranquilize the mind)
Of course I'm not so free to actually measure all the ingredients and ended up just dumping what I think is the suitable amount into the pot and let boil.
By the way, I use the plump red dates and not those small seedless ones as I was told that those small dates (especially pitted ones) contain sulphur.
My bowl of delicious confinement Red Dates Tea. 
Though I was told to drink this red dates tea every single day for the entire month but I did not. I just can't make myself to drink the same thing again and again for 30 days no matter how delicious it is. It's good enough that I'm even drinking this. If you see what I did during my confinement, you'll FAINT eg I washed my hair on the 5th day as I can't stand the itchiness! And because I gave birth a couple of weeks before the UPSR examination, I still carry on with the tuition classes for my Year Six students the moment I got discharged from the hospital as they needed me the most during these crucial time. My mom is okay with what I did so don't judge me :P
Related Posts
//

//
//

//

//

//
//
//
//
//
//
//
//