Ramadhan Buffet @ Cinnamon Coffee House, One World Hotel
If you are craving for home-cooked dishes this holy month of Ramadhan, think no further. Head over to the award-winning Cinnamon Coffee House featuring home-cooked traditional favourites, delectable Chinese dishes, tempting Indian cuisine and Malaysian hawker food showcased nightly.

Dates, the must-haves in any Ramadhan buffet 
We can indulge in their signature dishes served at the main course section such as Ayam Percik, Daging Bakar Asam, Daging Rendang Tok, Ikan Patin Masak Lemak, Kupang Masak Berlado, Siput Sedut Masak Asam Manis, Daging Rendang Tok Ikan Tenggiri Pajeri, Nangka Muda Lemak Cili Padi dengan Tulang Ikan Masin, Lala Tumis Petai Asam Pedas and Udang Rendang Berkerisik. The extensive spread will not be complete without sampling One World's popular Bubur Lambuk, served with a variety of condiments.
Bubur Lambuk
Meanwhile, lamb enthusiasts will be delighted to indulge in Roast New Zealand Whole Lamb with Briyani Rice and Vegetables served with Mint Sauce, Black Pepper Sauce or Mushroom Sauce

Roast Lamb
For a change, Roast Whole Deer are served every Saturday night.
Nasi Ulam, Nasi Dagang and Nasi Kerabu
My beautiful and delightful 'colorful' rice :D
Satay, lepat kacang and lemang
There are also hawker stalls offering items such as Roti John, Shawarma, Dim Sum, Tempura, Hainanese Chicken Rice, Yong Tau Foo, Popiah Basah, Roti Canai and Murtabak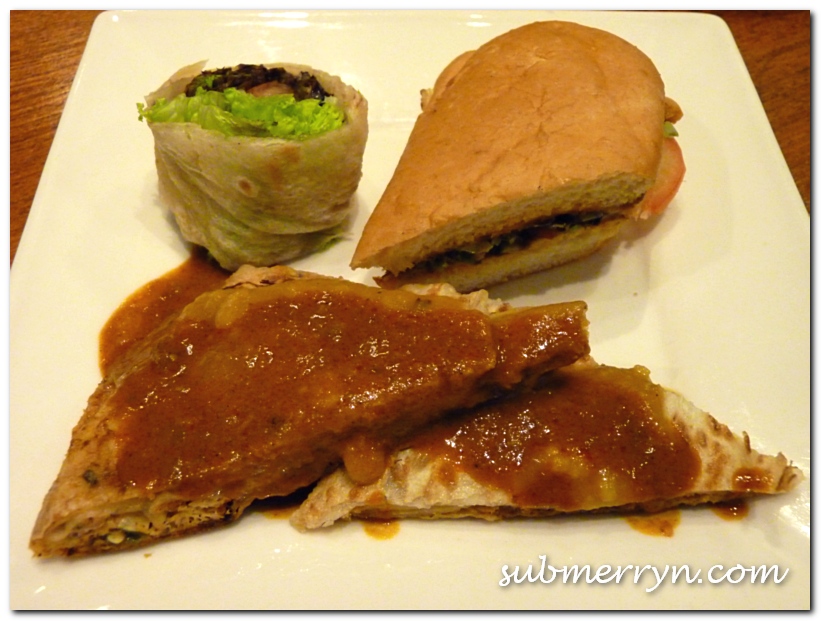 Murtabak, roti telur and roti john ayam
A myriad of Malay kuih-muih such as Agar-agar Gula Melaka, Tapai Pulut, Jala Emas, Pulut Panggang, Lepat Pisang, Ondeh Ondeh, Badak Berendam, Kuih Koci, Kuih Lapis, Kuih Talam, Kuih Cara Berlauk and the list goes on.
Putu Mayam
It has been ages since I last had putu mayam and the ones served here is pretty decent! I had several pieces of this!
Durian Sticky Rice
To tell you a secret, I actually started off my dinner with this durian sticky rice! LoL! The sweet aroma was so tempting that I can't help myself from having a plate of this before digging in at others.. 
Sashimi
Besides the usual Ramadhan fare, we also had sushi and sashimi at the huge Japanese counter. 
Yong Tau Fu
I've always wanted to go to Ampang or Puchong for Yong Tau Fu but my busy schedule doesn't permit me. Imagine my delight when I saw the Yong Tau Fu stall in the Hawker Fare. My cravings satiated :D
Noodle Soup
Darling and Ethan shared this bowl of noodle soup. Ethan had pasta, lasagna, sushi and more. 
Ice kacang
What better way to finish off our meal with marvellous desserts like Ice Cream Goreng, Bubur Jagung Manis, Chilled Longan and Peach, assorted Ice Creams, Ice Kacang with Condiments, Cendol with Condiments, Chocolate Fountain, Pandan Kurma Layer Cake, Nutmeg Coconut Pie, Chocolate Moist Cake, Kurma Cheese Cake, Kurma Linzer Tart, Honeydew Pudding in Glass, Panna Cotta, Strawberry Mouse and assorted fresh fruits.
Fried ice-cream
Fried right in front of our very eyes, their fried ice-cream can rival the ones sold in Jonker Walk, Malacca!
Aneka Selera Kayanganku showcasing delicious traditional favourites from 1 July – 8 August 2013.
01 – 07 July
RM93 per adult
RM47 per child aged 4 – 12 years
08 July – 08 August
RM128 per adult
RM64 per child aged 4 – 12 year
For reservations, call Cinnamon Coffee House at 603 7681 1157.