Man of Steel 50% off Promo
Last year, when Angry Bird was the hype, we bought Ethan the bedsheet set because it was selling at half price from RM99 to RM49.50. We thought it was such a steal that we bought it without thinking twice and happily blogged about the Angry Bird bedspread. 
Ethan's Angry Bird bedspread with matching pyjamas
Last weekend, we were in Aeon and saw the latest promo – Man of Steel. The Man of Steel bedspread is also selling at 50% off but we were not aware of that.
Ethan loves Superman and can't wait to catch Man of Steel in the cinema. The moment he saw those bedspread he quickly browsed through like as if we are going to get one for him. 
Look at him trying to persuade the father to buy for him that Man of Steel bedspread. 
At 370 thread count this is even better than Ethan's Angry Bird bedsheet with only 350 thread count.
Of course with the extra thread count, the price is a little bit pricier at RM119.
Darling wanted to get this for Ethan but I disagree. I said his Angry Bird bedsheet is still nice and we should not get this as it is not cheap at all so I said NO to Ethan. But that doesn't stop me from asking Ethan if he wants to pose next to the Man of Steel for a picture. Ethan reluctantly posed.. 
See his face?
I asked him why is he so sad and he answered, "I'm not sad. I'm trying to mimic Superman's cool expression. Superman doesn't smile so why should I?" Whoa… my anak so smart or tengah merajuk big time tu?!
Anyway, while I was taking this pic, a promoter told Darling that the bedspread is selling at 50% off so without hesitation he bought it for Ethan without the little fella's knowledge. 
The next day, Darling took Ethan out while I rinsed, dry and changed his bedspread.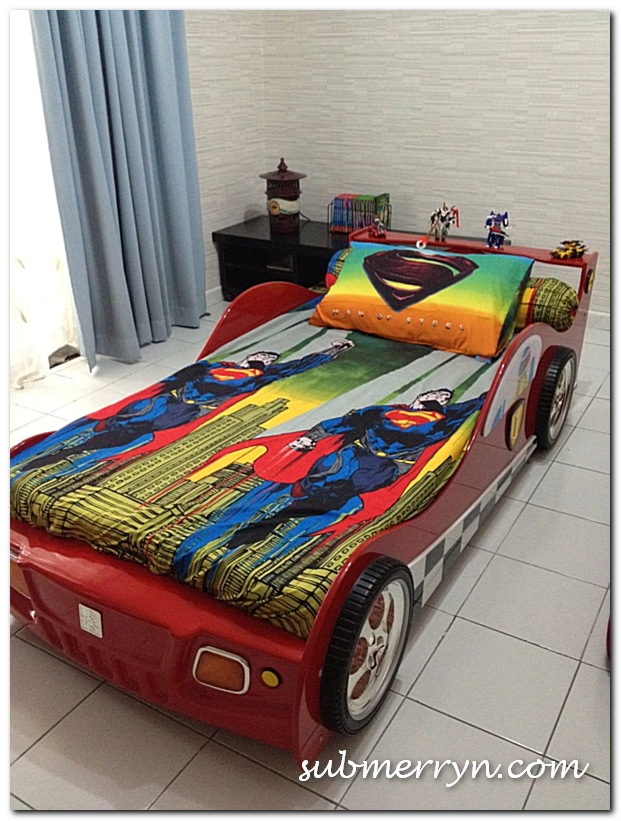 Tah-dah! Man of Steel bedspread specially for Ethan but he doesn't know it yet!
And then I heard them downstairs. They are finally home! I called for Ethan to come upstairs… 
Needless to say that boy was overjoyed! I realized he was also wearing his Superman tee!
He asked, "How come?" and we simply answered, "coz it was selling at 50% after all" and he squealed in delight. 
That night when I was tucking him to bed, he kissed and thanked me for getting that bedspread for him (eventhough it was his Daddy who actually bought it! LoL).
He held on to my hand until he fell asleep.. 
My manja boy <3
Oh yeah, Darling actually wanted to get Man of Steel bedspread for US too but they do not come in King Size. He told me just now and I was like, "What?!! Thank goodness they don't have them in King size as I won't want to be sleeping on a Superman bedspread!!" >_<
//
//
//
//

//

//
//
//
//
//
//
//