Concorde Hotel Shah Alam's 'The Best of Penang & Johor' Ramadan Buffet
Muslims fast from dawn until the sun sets, offering more frequent prayers and restraining from wicked intentions during the Holy month of Ramadan. This Holy month also brings the ties between family and friends closer when Muslim seek forgiveness from each other and endure the month together.
In this multi-cultural country, non-Muslims are always invited to join in the break fast meal as we live harmoniously together and that was just what we did several days ago when we were invited to preview Concorde Hotel Shah Alam's "Buka Puasa" menu.


Ethan with an enthralling array of authentic Penang and Johor specialties.
Here are some of the food we had that evening.
Let's start with my all-time favourite soup. Soup Gearbox is a must-have before you indulge in other local delicacies.


Soup Gearbox
Soup tulang or bone soup is a dish consisting of mutton or beef bones stewed in a sweet and spicy red soup of mutton stock, tomatoes, ginger, chillies and spices. The dish is prized for the marrow contained in the bones. This dish is served hot with a straw. The marrow is sucked out directly from the bone using the straw provided. Slurp!


Ayam Masak Madu
The sweet and tender ayam masak madu is simply appetising. I had many helpings of this with the nasi briyani gam. 
Sambal Udang
One of the top rated dish that night especially among those who love spicy food. I was so glad I have Darling with me so he can help me peel the skin off :D
Sotong Kunyit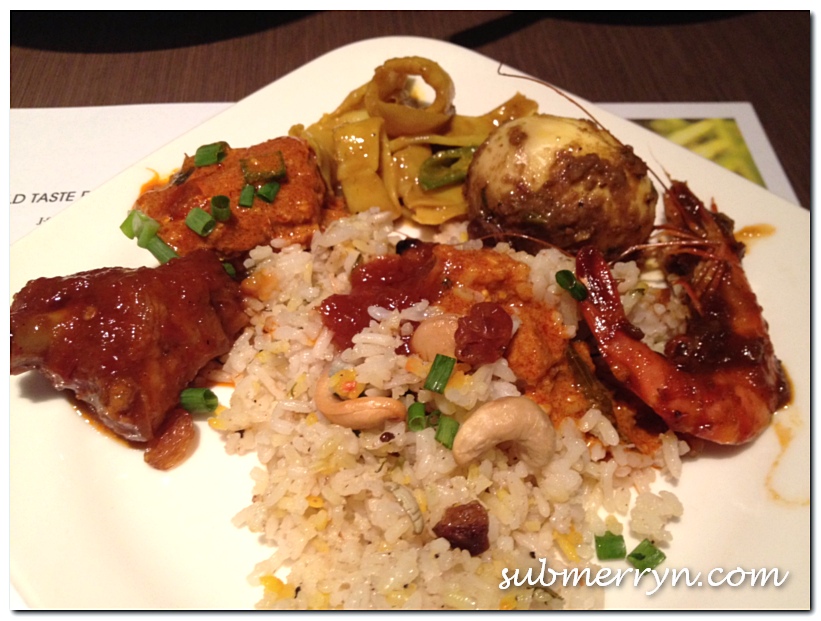 Nasi Briyani Gam
Their Nasi Briyani Gam Johor is a must-try. Whet your appetite with chicken, beef or mutton cooked with the fragrant, coloured long grains and spiced rice served with curry and pickled cucumber. My nasi briyani gam with ayam masak madu, kari ikan, sotong kunyit, whole egg from the curry and sambal udang on the side. It's simply heavenly! 
Of course there are more from the buffet such as satay and otak-otak. 
Satay ayam, satay lembu and otak-otak.
I'm sorry you can't see the satay meat as they are all covered in peanut sauce already. I'm a big fan of kuah kacang and if possible I'll flood the entire plate with it! 
Darling ordered noodle soup from the hawker fare for Ethan. The little one also had spaghetti and seafood au gratin. 
There are more offerings from the hawker fare such as Mee Bandung, Penang Assam Laksa, Satay, Tauhu Bakar, Rojak Pasembur, Otak-Otak Kempas, Keropok Tiga Rasa, Sotong Kangkung, Lok-Lok, Acar Buah, Chicken Murtabak, Roti Jala, Yong Tau Fu, Hainanese Chicken Rice  and Blanched Cockles. 
Though I was filled to the brim, I can't resist their mouth-watering selection of desserts, fruits and ice cream. 
Ais kacang with atapchi
Darling got me the ais kacang as he knows I simply loves atapchi and when he saw that the ais kacang here comes with atapchi, he quickly requested a bowl for me :)
Desserts
I ended my satisfying meal with that plate of dessert. It was a lovely evening catching up with friends as I've not seen them for quite some time.
Priced at RM89.00++ per adult and RM44.50++ per child, 'The Best of Penang & Johor' Ramadan Buffet is available at Melting Pot Café (Lobby Level) and Grand Ballroom (Level 1) of Concorde Hotel Shah Alam.
Catch the special promotion of RM69.00++ per person during the first 3 days and last 3 days of Ramadan month. On other days, *1 diner breaks fast for free with every 10 paying guests.
For inquiries or reservations, please call +603 5512 2200 ext 2440 / 2406 or email to [email protected].