Sambal Petai Ikan Bilis Recipe
When I was younger, I already love to eat petai. My second sister however is not a fan of it. I remembered taking a bite of the petai from my mother's sambal and gave out a loud "HAH" in front of my sis so she could smell my breath! I remembered how pissed she was! LoL! Those were the good ol' days..
Though I love sambal especially with petai in it, I've never tried dishing it out myself. I've always thought that it is such a hassle and will mess up the kitchen big time but boy was I wrong! I found out today that it is so easy to dish this sambal petai ikan bilis. 
I don't think my mother makes it this way but nevertheless, this is my way and quite surprisingly it's a huge SUCCESS!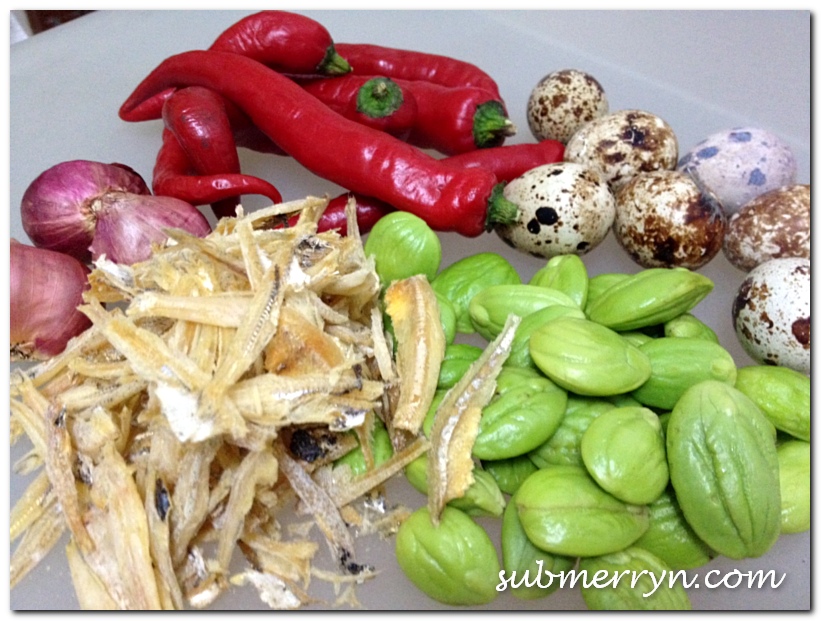 Ingredients for Sambal Petai Ikan Bilis
Ingredients:
Petai (Stink beans) – Halved to ensure there is no big eyed monster in it
Dried anchovies – Heads and bones removed
Red Chili
Shallots
Quail eggs – Hard boiled and peeled
Roasted belacan
Assam water
Sugar
Method:
Pound chili, shallots followed by roasted belacan. Always start with the dryer ingredients that is the chili, followed by the shallots and then lastly the belacan.  
You can always cheat by blending the above ingredients but I did not. I have that picture above to prove that I pounded every single thing. Well, I would have just blended it if not for this purpose of blogging about it :P
Heat oil and fry the peeled boiled eggs quickly until a thin crispy coating is formed. Remove.
Deep fry anchovies till brown and crispy. Set aside. 
Remove excess oil leaving enough to fry the chili paste. Fry until 'naik minyak' or in English I think is 'oil splits'.
Add petai and fry somemore. 
Add assam juice and sugar to taste. 
Lastly, combine fried quail eggs and anchovies and mix well until they are nicely coated with the chili paste.
Transfer to serving plate.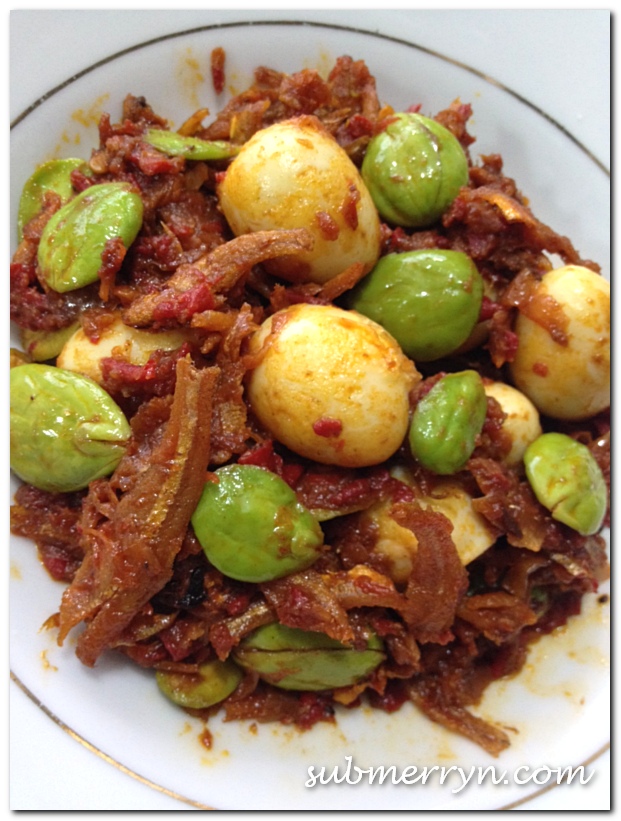 Tah-dah! First time dishing this out and am proud to say, it's GOOD! Haha! I love it and surprisingly Darling loves it too! My next task is most probably to learn how to cook nasi lemak to go with this. Ahh… Drooling already! 
By the way, I'm sorry if the recipe does not state the amount of ingredients used. I don't usually cook with measurement. It's all according to what the heart feels…
Related Posts