Water babies
For the past months, we have a new routine. Come Saturday we'll pack our bags and head over to our weekend home for a swim and maybe some gym but mostly swimming as Ethan doesn't go to gym. It's the weekend and I've not blogged on weekends for so long now but I just feel like sharing these pictures today :)

Oops.. Photo bomb there!! >_<
We bought Ethan his first pair of goggles and he just can't wait to put them on!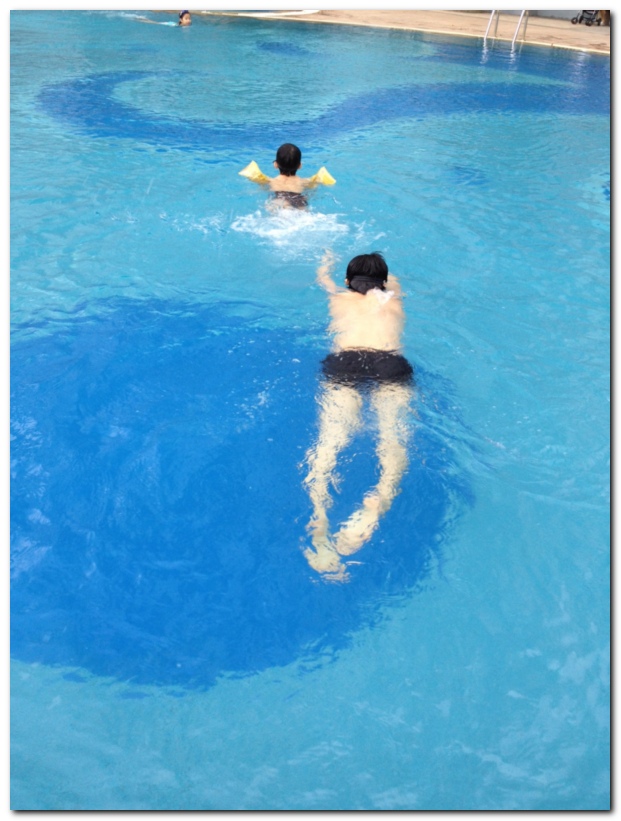 Most of the time these two will be swimming all over the pool. I don't swim. I'm just a tea bag, dipping in the jacuzzi pool.
Most of the time they'll accompany me for a while before going for a swim again. 
Look at Ethan swimming. Macam pro tak?
Fuiyo, like real liddat!
See see … 
Ethan wasn't swimming actuallly, he was riding on his Daddy! >_<
These two also brought along their water guns to the pool. They can stay in the pool for more than 2 hours! 
I on the other hand, after maximizing my sponge effect in the jacuzzi pool will go nap by the pool side but it's not always a good idea as … 
There are many blood-suckers who loves 'napping' together with me! >_<
I ended up not napping, take out my phone and take pictures of my Darlings :P
So this is our once a week activity. Anybody care to join us next time? :)
//
//
//

//

//
//

//

//
//
//
//
//

//

//
//
//
//
//
//
//