Happy Valley Seafood Restaurant, Genting
During our 2D/1N stay in Genting for the YNOT Graffiti event, we were all treated like VIPs especially when it comes to food. We also got the opportunity to try Genting Outdoor Theme Park's latest ride – The Waves. This ride is ultra cool I tell you where you'll be covered with a huge blue blanket midway and then just as it opens for you to see the world, the ride goes backwards and you are covered in darkness again! You've just got to try it to experience the adrenalin rush!

The Waves, Genting's latest ride attraction. 
While the rest of the bloggers are still queuing up for the ride, we brought Ethan and Breanna to Dinosaur Land. 
These two weren't afraid to go up the bridge at all. They even jumped up there! >_< 
While we were enjoying looking at Dinosaurs, I got a call from Darren of Nuffnang to go for lunch at Happy Valley Restaurant which is situated near the main entrance of Genting Outdoor Theme Park. 
Happy Valley Restaurant, Genting.
We quickly made our way there but the rest of the bloggers beat us to it. They've already started eating when we arrived. 
I was so glad that it was a sit down lunch and food are readily served in front of us as we were all dead tired from walking all over the theme park earlier :P
By the time we arrived, the sweet and sour fish was already half gone. Thank goodness the gravy is still there for me to drench my rice!
The prawn was served after we were seated so we got to eat quite a number of them. Cynthia mentioned that they should try to serve peeled prawns in any bloggers event as when we get our fingers dirty peeling them, we won't be able to take pictures! LoL! I did manage to take pics using my iPhone though.. *my phone smells of prawn after that lunch*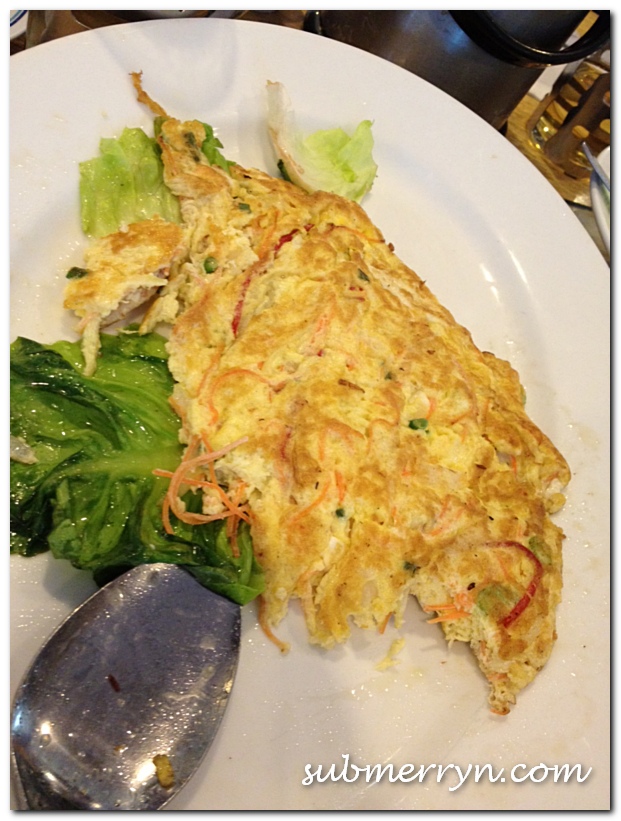 There was also omelette. Ethan loves this a lot. 
One of my favourite is the mushroom and tofu claypot dish. 
We ate a lot of this chicken dish yet there are so much more left on the plate. Don't know why but I think it miraculously multiplied each time we took a serving as it just doesn't seemed to be getting any lesser!!! 
Good boys and girls must have some greens in every meal. 
We were also served soup but I forgot to take a picture of it as that was the first thing I had when I sat down. I gulped the entire bowl of soup before having my lunch!
It was a lovely meal. I do not know how much it cost as we did not pay for it.
After that scrumptious lunch, we walked back to our room in First World Hotel for a quick nap before heading out again to get wet in their Songkran festival celebration! Read all about it here.
Related Posts