Delicious Fried Instant Noodles Recipe
I'm a very happy woman today. Darling left to work with a smile on his face saying he had a delicious breakfast, better than those he gets from the Mamak stall! Oh me, oh my! It's not everyday I get such a compliment from him so you can imagine me floating in the air smiling like a silly little girl. I'm so happy that I'm blogging this out immediately! LoL!
I 'accidentally' woke up a little earlier today so I actually had more time to spare before rushing Darling and the little one of to work and school. Was thinking what to do and then decided to fry some noodles for them.
I dished this out from scrap (except the noodles). I don't make my own noodles!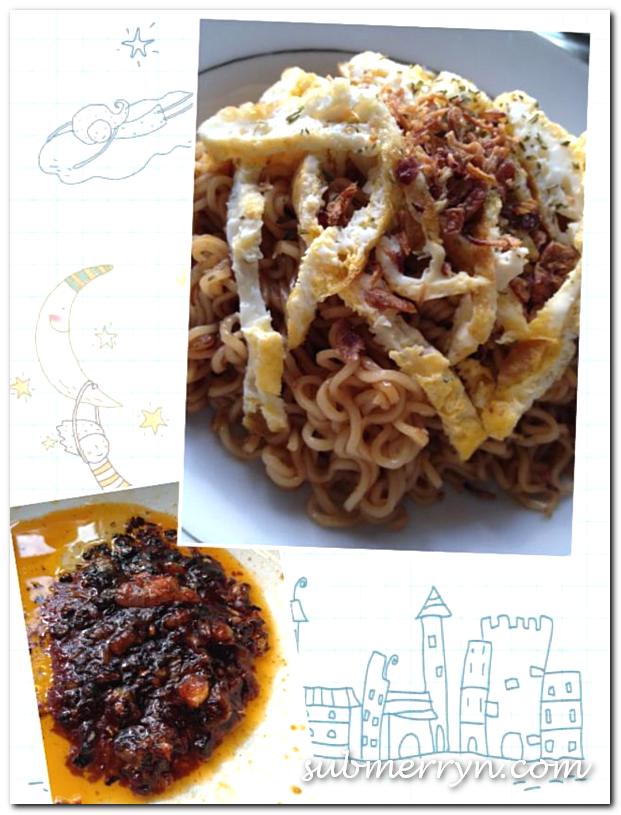 Fried air dried noodles aka fried INSTANT NOODLES.
Air dried noodles = Instant noodles lah kan?
Seasoning:
Sliced shallots
Chopped garlic
Chili paste
Dark soy sauce
Oyster sauce
Tomato sauce
Method:
Bring to boil a pot of water. Once boiled, add the air dried noodles. Leave it for a couple of minutes and then drain and run under cold water. 
Heat wok with some oil. I used olive oil for that extra healthy goodness :P
Fry sliced shallots, chopped garlic and chili paste until fragrant.
Add some oyster sauce, tomato sauce and dark soy sauce.
Remove onto a big bowl. Add the boiled noodles and mix well.
Transfer into a serving plate.
Garnish with shredded egg. 
I did not have any beansprouts, prawns or whatsoever in the fridge today so the noodles was prepared with minimal ingredients but with lots of LOVE! 
Darling said this is better than that Mi Sedap! :P There's nothing more satisfying than seeing my Darlings off to work and school knowing that I've fed them well :D *continue grinning*
Related Posts
//
//
//
//
//
//
//
//
//
//
//
//
//