Preparing for pregnancy
When you see married couples without a baby, your immediate thoughts would be, "Why?" and you can't keep yourself from asking them, "When?" When people see married couples with only ONE child, they'll not hesitate to ask, "When's number TWO coming along?"
I got asked that question ALL THE TIME now that Ethan is already 5. While I can always avoid that topic when he was younger, it is not so easy to brush people off especially the older folks these days. The truth is it is beyond our control. We are still crossing our fingers hoping that the stork will indeed deliver in the near future.
While we are not giving up, my gynae advised me to strengthen my body to better prepare for pregnancy. He said sufficient folate level is important before I get pregnant. Folate is critical for the development and growth of our child's spine and brain. Folate is critical for foetal development especially in the first 27days of conception, so early that most women are not aware that they are pregnant yet. Therefore, having sufficient level of folate as early as possible is important before getting pregnant.
Do you know that folic acid level required by women planning for pregnancy is 400mcg a day which is equivalent to approximately 97 slices of white bread or 170 slices of cheese which is almost impossible to consume in our usual daily diet? Anmum Materna contains high level of folic acid and study has shown that women who consumed folic acid fortified milk have increased in blood folate level.
My gynae also advised me to build up my calcium and iron level now before I get pregnant. Iron is required for the formation of red blood cells needed to deliver oxygen to our child. Poor iron level may lead to anemia. Calcium helps build strong bones.  Insufficient calcium level during pregnancy can cause our body to withdraw calcium from our bones to build our child's bone. I certainly don't want THAT to happen!
Since I took Anmum Materna when I was carrying Ethan, loves the taste and most importantly tolerated it throughout the nauseous period of the first trimester, I'm going to continue taking it this time and hope that I'll be blessed with good news really soon!
I got that Anmum Essential sample (for Ethan) for free when I purchased Anmum Materna because the sales person doesn't know that Ethan is already consuming Anmum Essential. No harm getting a couple of extra packs for free :P
And then I read that for Anmum Essential, it is recommended to dilute with lukewarm or room temperature water. I was wondering if the same applies to Anmum Materna so I called their nutritionist at 1-800-88-3122 and upon getting through, I was told that it is also recommended to dilute Anmum Materna in lukewarm or room temperature to preserve the probiotics. I also asked them for any simple recipes and the very next day, I got this in my mailbox:
A parcel from Fonterra Brands!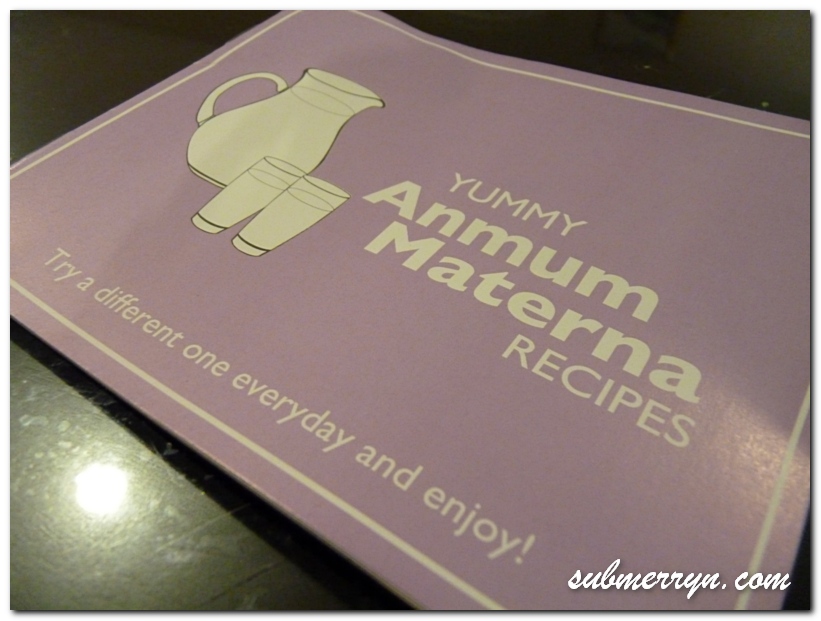 Tear that parcel open and I got this – Yummy Anmum Materna Recipes.
Immediately I browsed through it and found the simplest recipe ever – Chocolate Banana Anmum Materna Smoothie
Ingredients:
1.5 frozen bananas

4 scoops of Anmum Materna chocolate milk powder
Directions:
1)      In a blender, combine banana, chocolate milk and crushed ice. Blend until smooth.
2)      Pour into glass and serve
3)      Garnish with strawberries.
I skipped the 'garnish with strawberries' part as I don't have strawberries at home but the result is just as delicious!
Chocolate Banana Anmum Materna Smoothie
This is my favourite power drink now. I take this every day before I go for my evening walk in the park. Keeping my body nutritionally ready has never been easier!
Oh yeah, have you ever wondered if you know enough to prepare for pregnancy? I thought I know it all since I already got Ethan but boy, after playing this game, I found out that there are many things that I'm still not aware of. You can test your knowledge too by clicking http://gettingpregnant.com.my/
Submit your best score and top the leaderboard to win the Grand Prize!
And while you are there, don't forget to request for your FREE SAMPLE.
Just a click of a button and you'll get your FREE samples of Anmum Materna. It's always better to start early when you're trying for a baby to get your body ready for pregnancy.
Best of luck playing the game and see if you can beat MY score! :P
//
//
//
//
//
//
//
//
//
//
//
//
//
//
//
//