Baskin Robbins Flavor Election Finale
We attended the Baskin Robbins Flavor Election finale yesterday evening at The Square, Publika. We were given color coded t-shirts in accordance to the flavor that we have voted earlier. I voted for sixthseal.com hence we got the PINK tee. 

Ethan's pink tee. Good to make a princess dress :P
Darling and I in pink too. 
And then we started eating and eating because Malaysians being Malaysians, it was free flow (of Baskin Robbins for Nuffnang bloggers last night)!
Eat somemore.. 
And more… BURP!
Then I spotted the one and only sixthseal himself. He's the reason we were all wearing pink lah. Look at him at the height of his macho-ness. Pink tee, pink bottle, pink board, pink cheeks! 
We were then introduced to the rest of the bloggers who represented the other 4 flavors. 
Soon after it was the Baskin Robbins ice-cream eating competition. Without a doubt I was rooting for team PINK!
While the rest of the contestant were eating spoon by spoon, Huai Bin ate the entire scoop at one go! :O
Can see or not? The entire elephant went into his mouth!
Needless to say, his team won the challenge.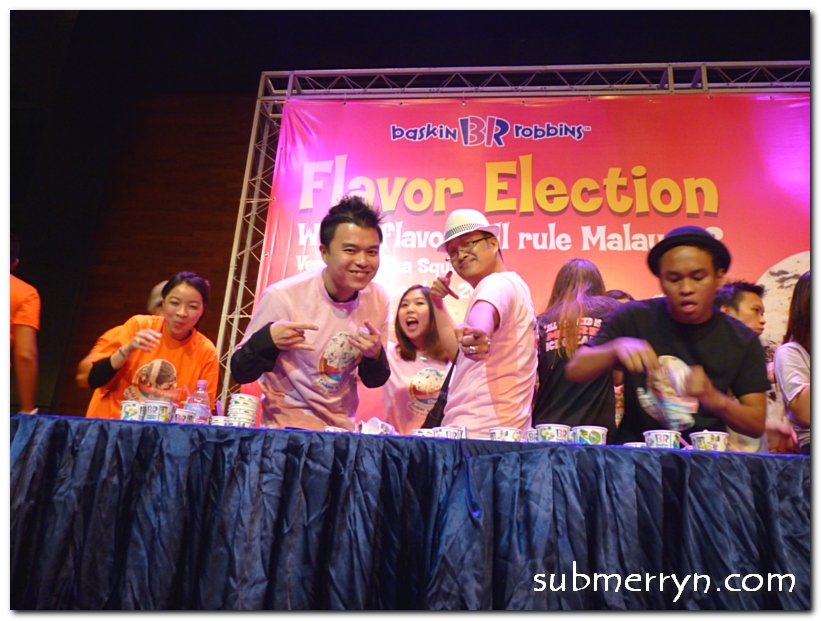 Look at them already celebrating while the rest are still struggling to finish their ice-cream. Team PINK totally dominated the game!
Though we'd love to stay back and have more fun.. 
Because Baskin Robbins is making people HAPPY.. but we had to leave as I have to report at KLCC by 6am the next morning. I can't afford to stay up too late so we left midway :(
Another reason for us leaving early is..
We ate too much Baskin Robbins ice-cream and DOUBLED UP side ways! See?! So KEMBANG liao :P
Related Posts
//

//

//

//

//

//

//

//

//

//

//

//

//

//

//

//

//
//
//
//
//
//