Sitiawan Kompiang
I was raised in Sitiawan from Primary 4 until I left for college. When it comes to Sitiawan, one delicacy that you MUST try is:
Gong Pian, Gong Phiang, Kong Piang, Kompiang.. however you spell it, it only means one thing : Biscuit made of lard, onions, salt and flour with either onion or minced pork fillings which is then slapped onto the sides of a traditional Chinese oven. It will stick at the side of the oven while it is baked (approximately 15 minutes).
I remember fondly after I left Sitiawan for college, I got so home-sicked that it drives me crazy being alone in KL every single day. I crossed out the dates on the calender every morning waiting for my next trip back home to Sitiawan. When I finally got back to Sitiawan one fine day, my elder sister who was residing in Ayer Tawar then bought some kompiangs home. It was heaven sent! THAT was the last time I had kompiangs as my family shifted back to Malacca soon after and I never returned to Sitiawan since. That was in 1998.
Today on a lazy Wednesday morning, I got a message from my Sitiawan friend David that he bought some gong phiangs for me! That perks me up instantly!
Immediately I recalled the strong, enticing aroma of the fragrant onion biscuit and I started floating…  Morning turned to afternoon, evening took over and finally it is dinner time.
I met David, his wife JC and son Gideon over dinner when I was given this:
Not two, not five but TEN pieces of fresh Gong Phiang with lots of chopped onions inside.
This is too good to be true! 14 years! I've waited 14 years for this… *overcome with emotion*
Can you see the fat, juicy onions?
Yummy!! In case you have not heard or tasted Kompiang, this biscuit is crispy when it is fresh out of the oven but will turn a little chewy shortly after, slightly salty and definitely fragrant! I don't know how much they are sold now as JC refused to accept payment for these… See JC? Because of that my blog post is incomplete, no price stated :P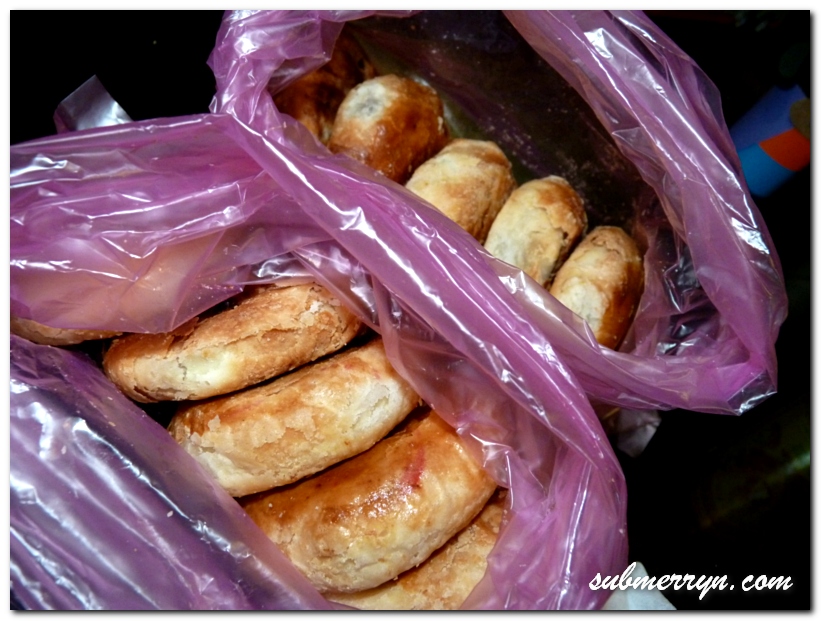 Not only they got me kompiangs, they also got me TEN of these little cuties. I dunno what they are called but I think I heard David saying 'tausa piang' or something like that!

Took a bite of it and love the sweet filling inside.
It was 10pm yet I am still munching on both kompiangs and the tausa piang. There goes my diet..
At the time of writing, I've downed 3 kompiangs and 2 tausa piangs! My goodness!
Oh yeah! Not only did they got me kompiangs and tausa piangs but they got me ONE more precious delicacy from Sitiawan – the famous Kampung Koh Cili Sos! OMG!

Kampung Koh is extremely famous for their chili sauce that it is exported to countries such as Australia! You know how strict Australia is on food imports? But this humble Kampung Koh chili sauce made it there. This sauce is so fragrant and goes very well with dim sum or anything. ANYTHING at all! You can even dip your kompiangs in it ^_^
It is THAT good! Hahahahaha…. >_<
I forced JC, David and Gideon for a round of Snowflake after dinner eventhough David is dead tired after the long drive today ^_^
Thank you Jin Chuew, David (and Gideon) for all of the above. Thank you so much for coming all the way to meet me just to give me all those. Really appreciate it alot. I'm going to have a really sweet dream tonight… :D
//

//

//

//

//

//

//

//

//

//

//

//

//

//

//

//

//

//

//

//

//
//
//
//
//