Honda Hybrid : Insight, Jazz or CR-Z?
*48 hours sticky post. Scroll down for latest updates*
I run a craft Studio specialising in creating craft from recyclables. It is only natural that I am inclined into anything that is Mother Nature friendly.
That includes 'green' cars and by green I'm referring to the much hyped hybrid cars. I don't know much about hybrid cars initially but there is always room to learn new stuffs especially if this is going to be big in the near future. When I wanted to learn more about hybrid cars, naturally I turn to Honda as they are the pioneer in introducing hybrid technology in Malaysia.
Who says you can't hug the road and the planet at the same time? – Honda Insight
Honda Jazz Hybrid
Honda CR-Z
First thing first. What is a hybrid car? How does it work?
The main reason why most people choose hybrid cars is for the fuel efficiency. It's comforting to know that hybrid cars can run on alternative fuels decreasing their dependency on fuels.
A hybrid car uses two or more distinct power sources to move the vehicle. Generally, there is that engine that serves as the main power source and then there is THE electronic motor that provides additional power as and when it is needed.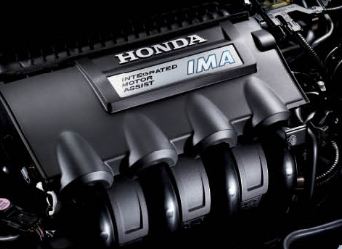 Honda hybrid cars features the 1.3L i-VTEC + IMA (Integrated Motor Assists) battery system that works together with the smart Power Control Unit which regulates power supply to the hybrid system. In layman terms, it simply means that it ensures that optimum power is always generated to save energy. It works like a booster for the car hence the acceleration is comparable to what one may expect from a 1.6L engine.
Honda Hybrid cars utilises a high output, ultra-thin Low Profile Brushless DC electric motor which is 22% thinner and 15% lighter than previous generation technology.
Let's see how the Honda Hybrid system works. 
Petrol engine is the main source (1.3L i-VTEC Engine) with the electric motor providing assistance as and when is needed (IMA).
As shown in the above picture, the motor operates alone during low speed crusing and at other times, the vehicle runs on engine with motor assist resulting in less fuel burnt and money saved.
The meter on the dashboard will remind you to be a better driver :)
Example: Low Speed Crusing
Motor Operates Alone
Example: Acceleration
Engine Operates with Motor Assist
Example: High Speed Cruising
Engine Operates Alone
Basically we do not need to take special lessons just to drive the Honda Hybrid cars. Though it sounds confusing, it is just like driving any other cars out there PLUS the fuel efficiency. Since we already know that we save the most when we go on low speed cruising, it helps NOT to speed like a maniac on the road!
See! Best driven in the city where we waste most fuel during traffic jam, the Honda Jazz Hybrid here is running on motor alone. The green lights shown in the meter on the dashboard indicates that Darling is on fuel-efficient driving.
Honda Hybrid Cars also comes with Econ Mode Button that makes eco driving fun and easy.
The Ecological Drive Assist System (ECO Assist) feature helps drivers to achieve full-efficiency driving.
Econ Mode Button
This little green button is all it takes to adjust engine output, CVT Transmission, Idle Stop, IMA battery charging and air conditioning for maximum fuel efficiency.
Guidance Function
Though we don't need to take a special courses to drive a hybrid, it helps if we can instill good driving  habit in us. The color on speedometer changes according to our driving style, encouraging us to drive steady and not speed unecessarily.
Scoring Function
Remember Tamaguchi? How we do our best to get the BEST out of our virtual pets? This is MY tamaguchi :P
Ignition ON – "Grow leaf" while driving. The more fuel efficient your driving style, the faster the leaves will grow.
Ignition OFF – The grown leaves will accumulate and gradually form a trophy to indicate fuel-efficiency driving level: Beginner, Advanced, Congratulations, which is the final level.
Basically, a Honda Hybrid car is built to be fuel efficient and environment friendly and the driver just need to drive it like any other car.
Visit hybrid.honda.com.my for more info on Honda Hybrid cars.
With all of the above made clear to me, my only dilemma now is: Honda Insight, Honda CR-Z or Honda Jazz Hybrid? 
Ethan has certainly made his choice…
So spacious, he can camp in there :D
What say you?
//
//
//
//
//
//
//
//
//
//
//
//
//
//
//
//