Baba Nyonya Yee Sang @The Tranquerah, Red Carpet
Chinese New Year is just around the corner. I remembered vividly what Chinese New Year was back in my hometown in Malacca. CNY means staying up late on New Year eve to help Mom pack Ang Pows, filling up the cookie jar, hanging up red cloth (or Chai Kee as we call it in Peranakan language) on the main entrance of the house. All these were done with the entire house filled with the aromatic itik tim aroma, the fragrant sek bak, the mouth-watering pong teh and I MUST get my hands on some of the cili and timun acar. Well, these are the main dishes that my mom will prepare without fail for the FIRST day of Chinese New Year.
I got married back in 2005. Since then I have always been away on the first day of CNY as I had to be at my husband's side. It has been 6 years since I missed having these mouth watering dishes on the FIRST day of CNY and this year will mark the 7th year :(
Imagine my delight when Alan of The Tranquerah, the house of Malacca Nyonya cuisine invited us to have an early Lou Sang at his restaurant at The Strand Encorp yesterday. My eyes sparkled and my stomach can't wait for a feast of authentic Nyonya cuisine!
So there we were at The Tranquerah, Red Carpet.

Ethan and Alan. Super cute! :)
The Tranquerah
62A-G, Red Carpet Avenue
Encorp Strand, Jalan PJU5/22
Kota Damansara, 47810, Petaling Jaya
Tel: 603 – 6142 4106
Let me tell you the truth. I have NEVER in my entire life had Peranakan Yee Sang. I never knew they even have such a thing but Alan gave us a big surprise yesterday. He presented a platter of Baba Nyonya Yee Sang much to everyone's delight.
Consists of fresh raw salad, squid, jelly fish, turnips and more. We just can't wait to start tossing!
And that's just what we did. Tossing up squids, jellyfish and more up high in the air while saying good stuffs such as, "Panjang panjang umur.." Yeah, if you wanna Lou Sang Nyonya style, you've GOT to speak the Nyonya way! :P
Alan wanted us to sample the Chinese New Year menu but with slight changes such as instead of having udang masak lemak we had squid instead. We are game to try anything and told Alan to serve us anything as we understand that certain items are not readily available yet until closer to the New Year.
Chinese New Year menu at The Tranquerah
Our appetizer for the day is Pai Tee or Top Hats. During the British colonialism in Malaysia, the British people wore top hats and the Peranakans thought of the idea that hey, top hats can be turned into a crispy shell to hold some savoury ingredients so that is how Pai Tee is born.
Hats off to that one particular person who came out with that idea!!
Next we had Chicken Meatball soup. Nothing beats having Itik Tim on the first day of Chinese New Year but if you dine at The Tranquerah for their CNY menu, you'll be served Hee Peow Soup (Fish Maw soup)  or Itik Tim instead of this Chicken Meatball soup lah. It is a must to have Fish Maw or Itik Tim on Chinese New Year day right? :)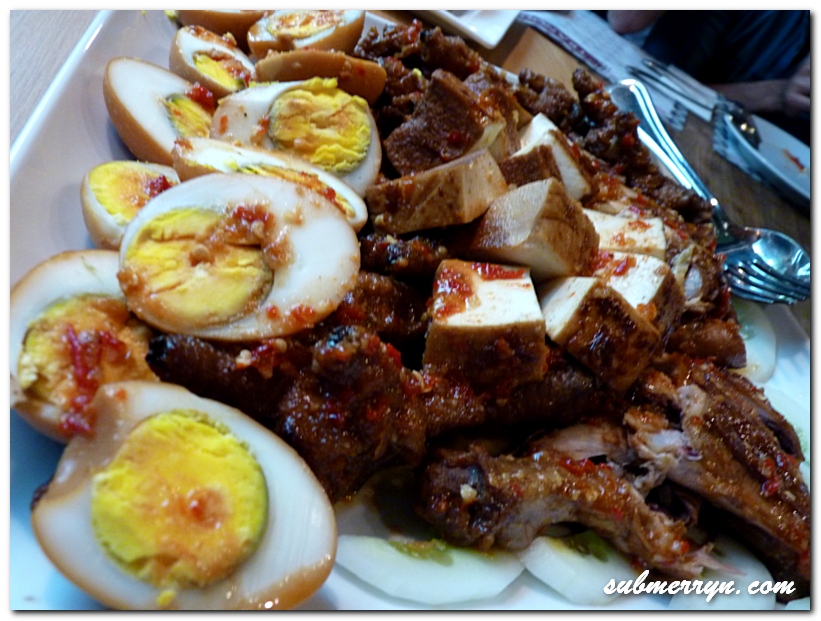 Back at home we always have the aromatic Sek Bak (stewed pork) but as Tranquerah is strictly PORK FREE, they've improvised to Sek Kay or Sek Ark instead (stewed chicken or duck). You may choose to have chicken or duck. All you needed to do is let them know your preference.
Not to be missed is their Chicken Curry. I've had it once and now having it again, this goes great with steamed rice. The curry is very rich and flavorful you'll want to drench your rice with it.
Nyonya Chap Chye. No meal is complete without it. Fried with Tau Cheo (preserved soy bean paste), this vege dish gives a hint of sweetness that I guarantee will make all the little kids EAT their vege!
The Sotong Masak Lemak Nenas is to die for. Taken with sambal belacan this is such an appetizing bomb!
The first time I dined at The Tranquerah we had their famous Ikan Sumbat. Today, we tried their Ikan Cili Garam. It's finger licking good! Oh yeah, you might as well be told now that we Peranakans eat with our fingers hence the 'finger licking good' phrase :P
I would give it a perfect 10 IF it was spicier though but according to Alan they had to tone down the level of spiciness due to their customer's feedback of the food being too spicy! Aiyak!
Sambal Bendi is so good that for once Darling speak out and exclaimed that this is GOOD! -.-
Oh yeah, did I tell you that we have a special guest today? He is non other than Malaysia's Top Model/Actor Isaac Ong.
Isaac and Ethan
This Sambal Terung is not in the Chinese New Year set menu but we got to try it simply because Isaac Ong requested for it. See what six packs can do to people?
He also requested the Gerang Asam.
Gerang Asam. If you are a non Peranakan and wish to impress your Peranakan in-laws, this has got to be one of the quickest dish to master and prepare. It is also one of the most appetizing meals around so I would highly recommend that you take a try of this and learn how to cook this dish! Savoury with a tinge of sourness, I can just slurp this as soup! Goodness… writing this post makes me crave for it again! @_@
Isaac is also a Malaccan so if he gives his thumbs up for the above two dishes means it is really GOOD! :)
We had sweet desserts to end our fantastic meal.
Ice Kacang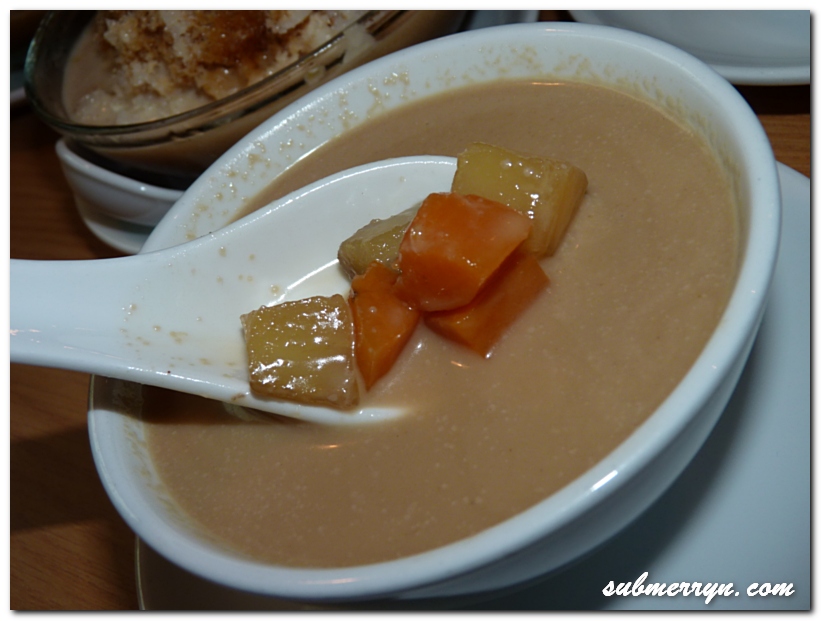 Bubur Chacha
Our meals today were all made possible with the presence of Uncle John. Uncle John is equally good as his famous wife, the celebrity chef Florence Tan. Thank you Uncle John :)
Last but not least, one pic for the album. The foodie gang at The Tranquerah.
The Tranquerah is open throughout Chinese New Year and closes from the 8th – 11th day of CNY. For reservations call +603-6142 4106.
Note: I found the level of spiciness in the food today to be a little mild for my Dragon hot Nyonya tongue but was told that this is due to the feedback and requests of the majority of Tranquerah's customers. They do however, is able to prepare the dishes according to your preferences. So if you have a hot tongue like me, please remember to make a special request to 'sky rocket' your level of spiciness :)
Related Posts
//

//

//
//

//

//

//

//
//
//
//
//
//
//
//

//

//
//
//