The Kites, Holiday Inn : Christmas and New Year dinner buffets
We went to Kites again for dinner last week. The last we dined there was during our wedding Anniversary a couple of months ago.
I started my dinner with salad.

Mango and Walnut Salad with Herb Dressing. Love the tangy herb dressing. Ethan picked all the walnuts!


Makiroll. My favourite, sushi! Someone said I have the 'sushi face' that night. Dunno to take that as a compliment or what -.-


Salmon Sushi. I had lots of this! I'll NEVER say NO to salmon and I rarely say NO to sushi. Put them together and I get weak on my knees…


Balsamic Lamb with apricot and apple. This lamb dish is rather interesting. Crunchy on the outside, can't remember what it's like in the inside! Muahaha.. Can't blame me okay? I kept popping them into my mouth like I was in a cinema watching my favourite movie eating some kind of snack!


Seafood Linguine. By now you should know that there are two pasta monsters in my household. Ethan is the biggest monster followed by me. Give us pasta anytime and we'll never complain. Topped it with loads of seafood and we'll smile from ear to ear! Can you see the generous amount of seafood laden in da pasta? OMG! It's like as if I'm in some kind of paradise!!!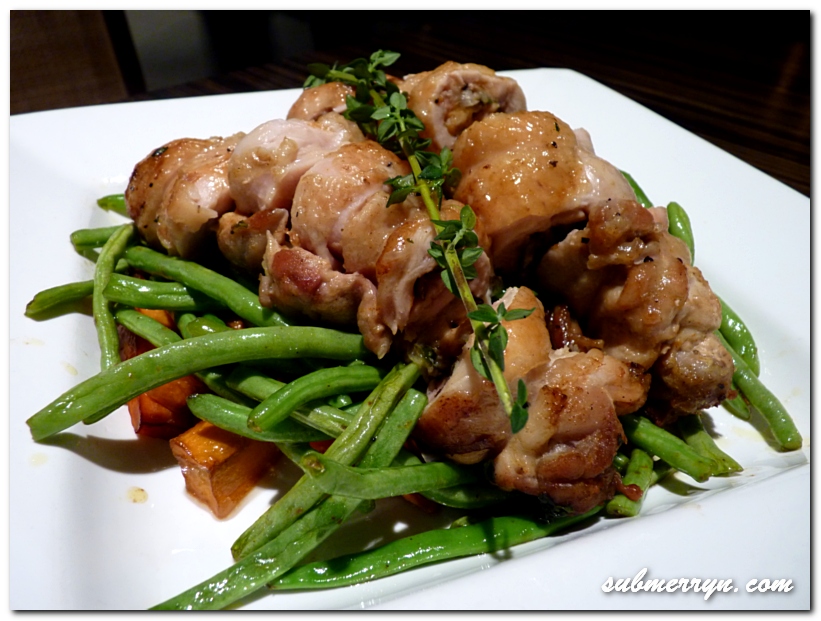 Cajun Chicken Roulade. This is one stuff chicken!


I meant stuffed chicken :D


Ice cream. I always have ice-cream when I'm dining buffet!


Ethan. Hmm.. that boy. He forbids me from having ice-cream as he said I was having the flu and quickly took my ice-cream away :(
I went back to get more ice-cream, this time in a cone and again, he took it away from me. Haih… But I find this picture a bit freaky as my head looks like it appears out of nowhere -.-
Anyway, it is always nice to be dining in Kites Restaurant. It is so cosy it feels like I'm dining at home, away from home! Okay, maybe lack of ice-cream is making me write with no sense :P
Since Holiday Inn is very near to where I live, I think I'll go back there for either Christmas or New Year…
By the way, what I had above is also part of their Christmas and New Year spread. Take a look at their Christmas and New Year buffets prices if you are planning for a nice dinner end of this year :
The Kites
Holiday Inn Kuala Lumpur Glenmarie
1 Jalan Usahawan U1/8
Seksyen U1
40250 Shah Alam
Selangor Darul Ehsan
Tel: +603 7803 1000
//
//
//
//
//
//

//

//
//
//
//