Angry Bird #bodohpunyabuku
We did not go anywhere after Ethan's class today. It was raining on and off the entire day that I got so lazy to go out. We stayed home and did sand art instead.
Sand art can be rather messy so I got him to take off his shirt and pants. He still has his underwear ON okay? :P My neck went stiff *not forgetting the sore butt* after sitting there with him the entire hour waiting for him to complete the sand art -.-
Then I let him have an hour of dipping in the bath tub while I scrub the toilet. Maid mode to the max!
By the time he is all clean and fresh it is already evening. We went to the night market in SS2 yesterday and I got him this.


Angry Bird activity book. 
RM2. He loves Angry Bird and I thought RM2, what the heck, just buy-lah!


Then he started reading out loud, TWO Car, THREE Bicycle and asked, "Mommy, why 2 Car and not carS? Why 3 bicycle, not 3 bicycleS?" #bodohpunyabuku
I've always emphasized on the "S" for plurals so now he's questioning me. Trying not to confuse him, I explained that the word BICYCLE and CAR are merely to name the pictures -.-


But they HAD to have THIS – 12 hat BUT 13 eyeglassES!
Elo! NOW Ethan questions me further, "Mommy, why HERE is 13 eyeglasses??!! but 12 hat and not hats?" I dunno my son, the book is simply #bodohpunyabuku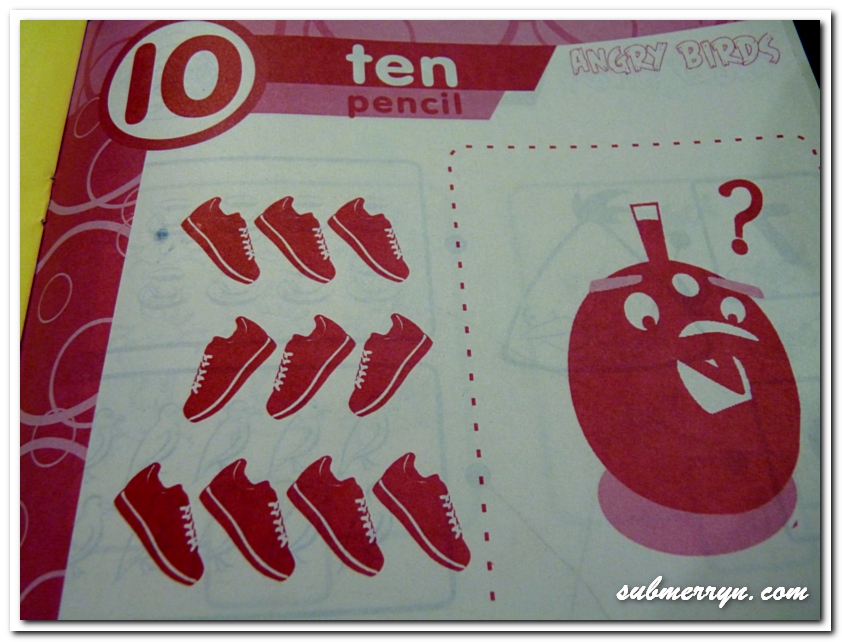 I did not even realised this but Ethan asked me again, "Mommy, TEN PENCIL! Where are the pencils? I see SHOES!"
Okay, I give up! RM2 #bodohpunyabuku is making my blood boil!

As I was about to fling the book like how they fling the birds, we came to this page – Nine coffee. 
Coffee is uncountable lah sayang! OMG! #bodohpunyabuku

But thank goodness for the final page, nothing went wrong. Ethan did them effortlessly and I'm so loving his handwriting now :D
I'm so NOT going to buy books from Pasar Malam anymore! #bodohpunyabuku
Related Posts
//
//
//
//
//
//
//
//
//
//
//
//
//
//
//
//
//
//
//
//
//
//
//