Zuan Yuan, One World Hotel : A Teochew Date to remember…
Lots have been said about Teochew cuisine though I have never tried one myself. I am particularly intrigue with the fact that Teochew cuisine is generally regarded as being healthy and they are well known for their seafood and vegetarian dishes.
What a delight I had when we were invited to have a Teochew dinner in Zuan Yuan, One World Hotel with the gang last week.
I got so excited that I dressed both Ethan and I up as CHINESE as possible to their theme "A Teochew Date". I was clad in my cheongsam while Ethan wore his samfu :D
They have lovely dinnerware. Their plate is gorgeous!
Ethan got a set of Barney plate, cup, bowl and utensils. He loves them so much. Here he is greedily proclaiming, "MINE! All MINE!"
We started our dinner with the Duo Combination 'Teochew' Style Steamed and Deep-Fried 'Fen Guo'. Beautiful isn't it? I love how clear the wrapper of the dumpling is, giving a tease of what's in store inside!
First look at it and I told my friends that I'd definitely prefer the steamed dumpling instead of the fried one…
The filling includes cubed radish, mushroom, peanut, water chestnut, garlic chives and more. Ethan and I love this.
And then we tried the deep fried version and OMG! If the steamed version boast of clear glass-like skin, the deep fried is alike yam dumpling skin.
Amazingly crispy on the outside yet soft inside, I actually preferred this to the steamed dumpling! Ingredients are the same, just the method of cooking is different.
What was served next before us is the Braised Shark's Fin with Crab Claw and Scallop
This luxurious soup uses pieces instead of loose strands of shark fin and it is possible to request to have the shark fin omitted from your soup if you are like half of my friends that night who have made a vow not to eat sharkfin.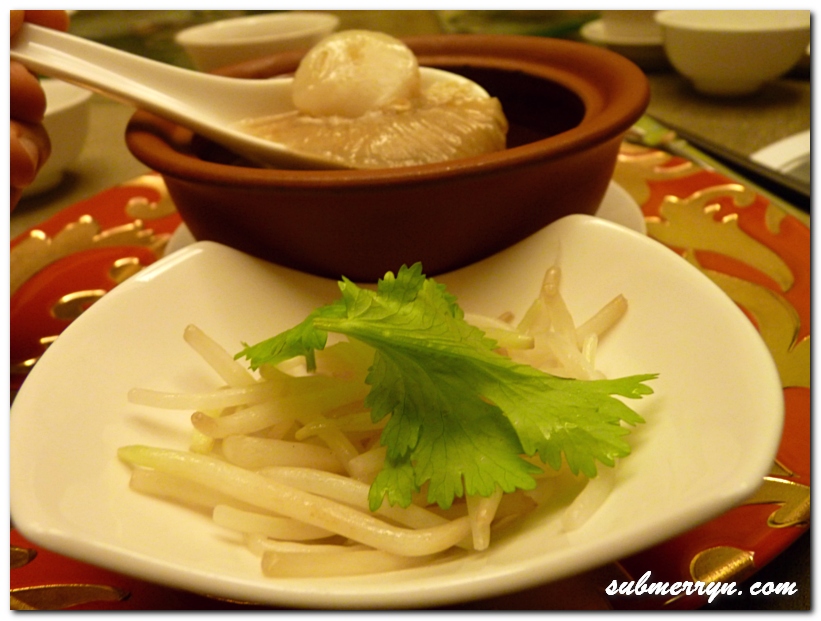 The soup comes with a bowl of lightly blanched bean sprout. Add that to the clear broth and what we got is a refreshing twist to an appetizing hot soup. Ethan prefers to have the bean sprout on its own though, picking strand by strand and enjoying it like a snack!


Deep-Fried 'Teochew' 'Shi Lin Guo'
I thought that this is cutely done.


Minced meat, mushroom, water chestnut burst out when I cut the cute pouch open. Ethan loves the filling but I find the bean curd to be somewhat dry. Nevertheless, my anak cleared the fillings :D


Steamed Leather Jacket Fish with Garlic, Ginger and Teochew Sauce
Our next dish uses leather jacket fish particularly for the texture; firm yet light. I was initially taken aback as I've always known this fish to have a mild oily taste which I don't really fancy. But when I had my first bite, it exploded in my mouth with its spicy sauce! A combination of garlic, ginger, chili and bean sauce this is surprisingly a delicious treat. But of course Ethan can't take this as it is very spicy!
For our next dish, we are to choose from either the braised rice noodle or fried rice.


Braised rice noodle with assorted seafood


Fried Rice with Olive Vegetable
I would love to try BOTH. So how? Super easy. Share with a friend! I take the noodles while Ethan take the rice and we get to try BOTH! :D
The truth is Ethan and I are both noodle lover. We can survive having noodles without the need for rice for ages. So for this, our verdict easily goes to the noodles. Love the fresh seafood in it!


Sweetened Yam Paste
We had yam paste dessert to end our enjoyable dinner. I was really reluctant to try this at first as yam paste dessert is often made with lard and lots and lots of sugar but after being told by Chef Michael Chew that this is his healthier version of the yam paste dessert with the lard omitted and the sugar reduced, I tried it at once. I love the cubed pumpkin and I've always love ginkgo so this is not entirely too bad. I love the orange zest that is added into the slightly sweet syrup making this rather interesting. But one thing's for sure, the portion is definitely too much for ONE. I could not finish my dessert and it will be too filling with THAT MUCH yam paste stuffed inside my tummy!


Drinking water from his favourite Barney cup before we head over to 1Utama to do some shopping all clad in our Chinese attire :P
The Teochew Date set menu is priced at RM68++ per person and runs from 1st Nov to 30th Nov, 2011.
Zuan Yuan Chinese Restaurant
Lobby Floor, One World Hotel
First Avenue
Bandar Utama City Centre
47800 Petaling Jaya
Tel: 03-7681-1159
Website: http://www.oneworldhotel.com.my/home/
Facebook: https://www.facebook.com/#!/OneWorldHotelPetalingJaya
//

//

//

//

//

//

//
//

//

//
//
//
//
//
//
//
//
//
//

//

//