Wing Hiong Bak Kut Teh
It was drizzling that evening not too long ago, when a friend lead our food trail to Seri Kembangan. We seldom venture far away but today is an exception. Today is gonna be a porcine feast so be warned – Non porcine fan can stop reading at this very moment. TAK HALAL POST AHEAD.

Wing Hiong Bak Kut Teh
  20, Jalan Equine 9D
  Taman Equine, Taman Putra Permai
  43300 Seri Kembangan, Selangor D.E.
  Tel: 012-351 1924 / 016-378 6241 (Mr Lau)
  Business Hour: Mon – Fri ~ 10am – 10pm
  Sat, Sun & Public Holidays ~ 9am – 10pm
One look at the menu and I know that we are going to be feasting like a pig today (no pun intended).
Chinese Tea is a must with each Bak Kut Teh meal.
Preparing a hot and wholesome pot of BKT for us. Yum yum!
We opt to have the oil rice that night. Fragrant and fluffy, Ethan can eat the rice just by itself! :D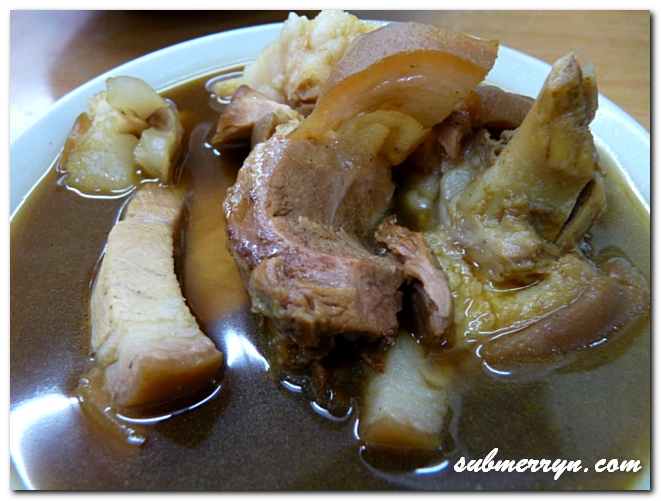 Bowl Style BKT (碗肉骨茶) ~ RM 11.00 / pax
I usually have my BKT in a claypot but here they have them in bowls too so you can sip and savor the soup immediately.
Chicken Feet (红烧鸡脚) ~ RM8.00
My foodie gang love this, raving on how with just one suck and the bones come clean! FuiyoH!
Claypot Bah Kut Teh (瓦煲肉骨茶) ~RM12.00/ pax
I seriously preferred BKT served piping hot in a claypot. I love how the air is filled with a whiff of herbal goodness when it is served. I like to smell my food before consuming them and boy this is so good!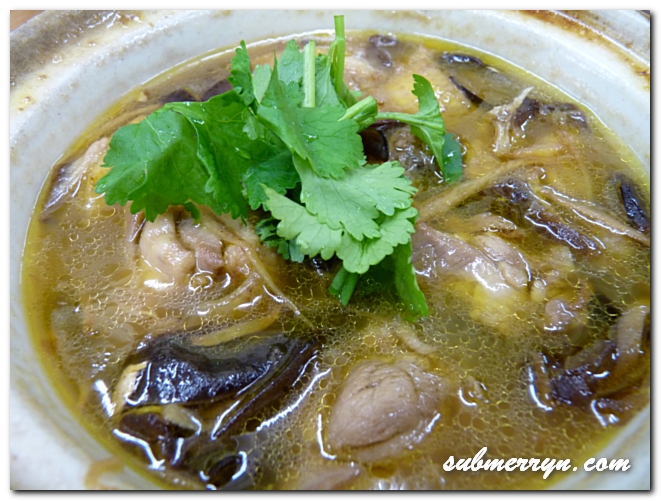 Claypot Chicken with Yellow Rice Wine (瓦煲黄酒鸡)~RM15.00
Four years ago I had a whole lot of this. My mom alternate this and the pork knuckle in vinegar every other day during my confinement period. I was very happy then and am back being happy today.
Claypot Vinegar Pork Knuckle (瓦煲猪脚醋) ~ RM 14.00 (small)
There, another dish that makes me happy. I don't mind going through confinement for this! In fact, each time I heard any of my friends gave birth I'll invite myself over to their place just to have this :D And the one I have here is awesome with the gravy being thick with the right amount of spiciness yet still very sour, slurp!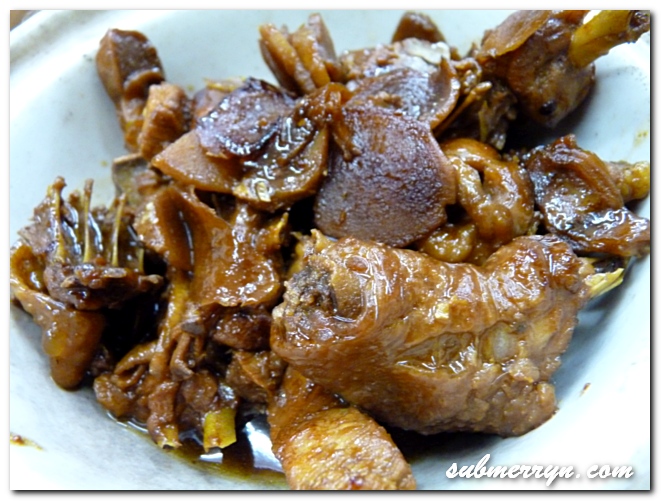 Claypot Kampung Chicken (瓦煲绍兴鸡) ~ RM 12.00
We also had the claypot kampung chicken. Kampung chicken is tougher but definitely tastier.
Spicy Stomach Soup (香辣猪肚汤) ~RM9.00 (Small)
Having this soup on a cool evening is heavenly. The spicy soup is good to jolt your senses. I love soup and I love this. Not too sure about the stomach and all though as all I did was slurp the soup and not what was thrown in it :D
Bowl Pork Tendon (碗猪脚筋) ~RM15.00
I was a bit hesitant to try this initially but everyone was pestering me to have a taste of it. After all being a foodie means trying new things right? So try I did and am very surprised that I actually like the chewy texture of the pork tendon!
Dry Claypot BKT (瓦煲干肉骨茶) ~ RM 13.00 / pax
I never tried dry BKT before as the only reason I have BKT is for the soup which I usually ask for refills countless times. I'm a soup lover, remember? So having this dry claypot BKT served in front of me is like defeating the purpose of having BKT! But alas, one sip of the thick gravy (yes, though they are called dry BKT, there's still gravy in it. The gravy is thick instead of the normal herbal broth) and I'm hooked to the tangier taste. Love it very much but I don't have much of the thick gravy to sip!
Can they come out with dry BKT with tangy gravy that I can slurp endlessly? :P
Steamed Fish with Spicy Bean Sauce (酱蒸非洲鱼) ~RM25.00
Out of no where this Angelina Jolie fish popped out! I laughed at how they covered the entire fish with spicy bean sauce leaving the lips nicely untouched! Being a fish person, this is easily MY favourite dish! hehe.. I know! Smack me now for favouritising a fish dish during a BKT outing! But I just can't help it, I'm born to love fish! And by loving I mean EATING them :D
Dry Claypot Stingray (瓦煲脯鱼) ~RM18.00
Like as if they heard me, the next dish is dry claypot stingray! Same thick and tangy gravy like the one I mentioned earlier, the stingray has a very sharp and rich herbal flavor. I love it!
Steamed Lala (上汤啦啦)~RM22.00
The night just got better and ended with a bang with the serving of the last dish – Lala BKT! THIS I got to try! Lala BKT is something unheard off (at least to me) so I was very curious to know how it would taste and BOOM! the broth exploded in my mouth! It was wickedly rich with a very thick tangy herbal taste and sweetly flavored by the Lala, this could not be better! It is definitely a MUST HAVE and MUST TRY if you visit Wing Hiong Bak Kut Teh! Submerryn highly recommends this. In fact, I might just get Darling to drive us all the way there just to have THIS again! Yummy.. am salivating again! @_@
Blanched Iceberg Lettuce (玻璃生菜) ~RM6.00 (小)
Still in ecstasy over the Lala Bak Kut Teh, I saw the lettuce being served. Ethan and Darling had lots of this but I don't remember having any of it as I was too busy slurping the Lala BKT broth. Aiyo.. how I LOVE the Lala BKT! -___-
Five couples.
13 dishes.
Don't be scared of us. We don't eat you. We just love good food! And having good food with great company is all that matters! Now.. let me go dream of my Lala BKT… slurp….
//
//
//
//
//
//
//
//
//
//
//
//
//
//
//
//
//
//
//
//
//

//

//