The Correct Way To Wear A Bra
I was at Wacoal Let's Pink event @ 1Utama today for the launching of its 2011 Pink Ribbon Campaign to promote breast cancer awareness.
One of the highlights during the launch is the Let's Pink catwalk…
Okay, so after seeing the models looking so sweet and pretty in pink I started to wonder, how do they DO that? Yeah you know what I mean.. They wear it so good don't they?
So I visited one of the booth, the PINK FIT booth. One of the pink ladies there taught me how to get the right measurement in order to get the right bra size.
Getting the correct measurement
We referred to the chart above to get the correct bra size for ME! And then we went to the fitting room to get the proper fitting. The 'pink lady' went in with me to teach me the correct way to wear a bra but of course I won't post any pictures of THAT! :P
Still, here's something for those of you who doesn't know how to wear a bra correctly :D
THE CORRECT WAY TO WEAR A BRA
The first thing you should do is slip your arms through the shoulder straps.
Then bend your body forward slightly so that your breast falls nicely into the cup and then fasten the hooks behind.
Hah! I know a million of you out there who hooks the bra in front then slides it to the back and pull the bra straps up. WRONG! You should NEVER do that as you'll only expose the straps to unnecessary tugging and risking ruining them in the long run!
Do the bend forward method, your bra lasts longer that way. It takes a little practice to fasten the hooks without looking but once you've mastered it, you'll be able to do it even in your sleep! :P
Next, from underneath the armpit, push the excess flesh of the breast into the bra cup.
This is very important. If you don't do this, you'll have excess flesh peeking from underneath your armpits, the sides and everywhere! Instead of letting your excess flesh overflow under your armpit making you look like some overweight aunty, make the BEST use of it. By pushing the excess flesh into the bra cup you are actually creating a FULLER and sexier bust. You'll be amazed at how much difference it makes!
Finally, adjust the bra straps to make sure the bra fits comfortably.
And just like that, you'll be able to have gorgeous silhouette like this model…
But then again, before we even dare to dream of looking as hot as the above, we'll have to face reality and identify which fruit are you..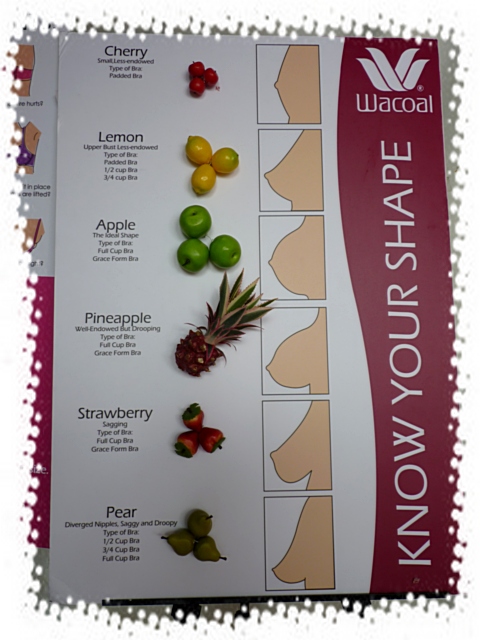 So which fruit ARE you? As much as I wish to be the APPLE, Darling said I'm a CHERRY! :P
P/S: This is Part 1 of Wacoal Let's Pink Event entry. Detailed entry will be up soon :)
Related Posts
//
//

//

//

//

//
//
//
//
//
//
//
//

//

//
//

//

//

//

//
//
//