Lancôme Blush Subtil Rose – A Luminescent Complexion Enhancer
What is the ONE make-up item that you can't live without? Okay to be fair, EVERYONE needs a good foundation so that won't count here. Besides foundation, what other make-up item you MUST have in your make-up kit? As for me, other than a good long lasting mascara, I like to dust a hint of blusher or bronzer before going out.
I said a HINT of blusher, not painting the entire face RED! o.O
I got super excited when Lancôme sent me their New Blush Subtil Rose recently.
Lancôme Blush Subtil Rose – A Luminescent Complexion Enhancer
So I look like this every morning. Pale and ghostly with just some powder on. Can't go out looking like that can I? People will be asking if I'm sick or anything..
It's a MUST to apply some blusher to give my face some 'life'.
* First I must find a blusher that matches my cheeks when they're flushed after an exercise. If you are not a fan of exercising, you may want to just 'spank' your cheek and see what colour your cheek appear. Use that colour as a guide to find the correct shade of blusher :P
When it comes to blusher I've always prefer powder to cream. Powder is so much easier to apply.
I tried using the brush that comes with the blusher but I just don't like it. Don't get me wrong, it's not that the brush is not good, it's just that it's a habit of mine to use a professional full brush instead.
I find applying blusher with a full brush much easier and faster :D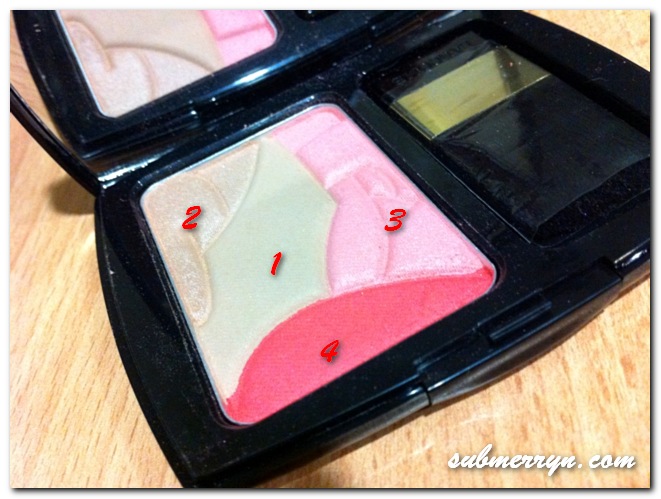 What I like about Lancôme Blush Subtil Rose is the four different colours in ONE blush.
Using the above chart as a guide, I applied the blusher effortlessly as the powder is very lightweight. It spreads easily. Once applied, it stays on well for me to go through any eventful day or night.
What I look for in a good blusher is for it to be able to spread easily for easy application. The colours must look natural on the skin and not be streaky. It has to be long wearing as I can be out long hours in a day attending one event after another.
Lancôme Blush Subtil Rose provides all that PLUS I don't have to get a separate bronzer or shimmer as I have it all here in ONE blush!
So whether I'm on for a girlie night out..
or attending dinner functions..
or even out in the woods..
Lancôme Blush keeps me looking fresh and rosy. It doesn't feel heavy on my skin and most importantly, it looks and feels natural like I'm not wearing blusher at all.
And yeah, Darling loves it too.. The blush, the rose.. me.. EVERYTHING! :P
//
//
//
//

//

//

//

//
//

//

//
//
//
//
//

//

//

//

//
//