Her World "Create Memories with Mum" event
*sticky post for 48 hours*
Thanx to Nuffnang, I got invited to participate in the "Create Memories with Mum" event in Aman Rimba Estate, Janda Baik recently. I am also allowed to extend the invitation to ONE Mother/Daughter team and my guests are the lovely Siew Teng and her daughter Jia Yi.
Siew Teng and Jia Yi
Darling and Ethan sent me to BluInc Media before 8am where I met the rest of the Nuffnang bloggers and Mommy/Daughter teams. I bid farewell to Darling and Ethan and board the bus at 8.50am. This is the first time I'm leaving Ethan for the entire day :(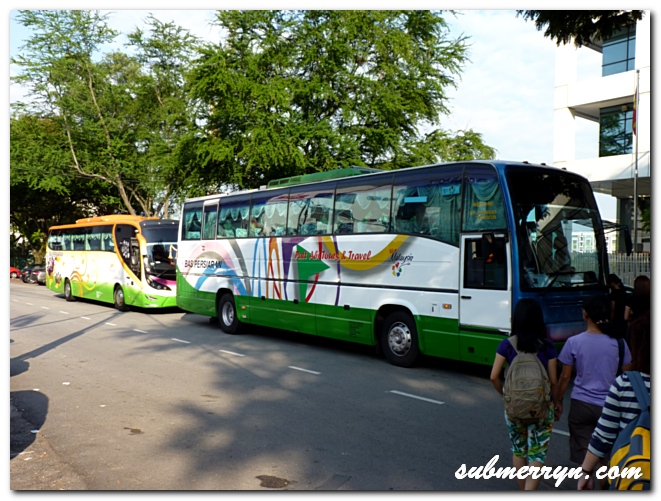 Two chartered buses to transport us to Aman Rimba Estate. I took the second bus, it is newer and nicer :P
I texted Darling (and even called Ethan on the phone @_@) all the way until we arrived Janda Baik shortly before 10am but since buses are not allowed to enter the narrow trail into Aman Rimba Estate, we were required to hike our way there.
The bus stops here and we began hiking, not knowing what awaits us…
15 minutes later we are still walking… @_@
Decided to take a breather and Kodak moments with the bloggers.
Thank goodness for the soothing sound and sight of the stream to make our 20-minute walk an enjoyable one. Finally at 150 metres more towards Aman Rimba, Siew Teng, Jia Yi and I hitched a ride in a car!
Within minutes we saw this arch and we know this must be the place.
Aman Rimba, Janda Baik
This breath-taking sight greeted us as we entered the arch. *Texted Darling again :P*
We were led straight to breakfast. I've actually taken my breakfast as I woke-up at 6am! But by now it is already after 10.30am and knowing that we are having a treasure hunt next, I had to fill up my tummy again!
After breakfast, we were divided into groups for the treasure hunt. I am in Team Grey :)
The Team Grey members reading our first clue. I can't really remember how many clues we managed to solve within that one hour but I do remember ONE very memorable task where we actually GOOGLED for answer :P
I've already blogged about that task earlier and in case you missed it, read about it here .
Another task also requires us to fetch water from the stream and one of our team members got stung by something. Thank goodness that was the last task before time runs out so we quickly adjourned to the meeting point and requested for First Aid.
After winding down for several minutes, we proceeded to a talk session on "Protecting against Cervical Cancer Together" by Consultant Obstetrician & Gynaecologist Dr. Yap Moy Juan.
"Cervical cancer is caused by persistent infection of the human papillomavirus (HPV) and affects women of all ages and backgrounds. Because cervical cancer is detectable at an early stage and preventable through vaccination, it is therefore important that all women, including teen girls, be protected against this disease," explained Dr Yap.
I learnt some new facts on HPV Vaccination that day..
HPV Vaccine can help to reduce a person's risk of cervical cancer by helping to protect against the most common types of cancer-causing HPV.

The vaccine does not protect against other sexually transmitted infections nor will it prevent a person from getting pregnant.

HPV is transmitted via sexual contact with someone who is infected. While most girls do not start having sex until they are older, an early vaccination is highly recommended as the immune response is at the highest at a younger age. Clinical studies have shown that the vaccine works best before there is any HPV infection so getting the vaccine early will protect the girl in the future.
Under the MMA HPV Vaccination Programme for Teens, teenage girls between 14 to 19 years of age stand to benefit from cervical cancer vaccination where two of the three doses of vaccination will be provided at an access price while the third dose will be provided free of charge to encourage dosing compliance and ensure optimal efficacy.
Pamela Victor, 18, a recipient of the programme who has successfully completed her full course of HPV vaccination, feels that everyone should be protected against cervical cancer and takes the necessary preventive action. Likewise, Pamela's mum, Mrs Victoria Victor, had this to say, "I would encourage all parents to look into this matter seriously. Sure, we had our initial concerns, but after obtaining more information, we were convinced that protecting our daughter was the right thing to do."
Victoria, Pamela and Dr. Yap Moy Juan
To date, more than 500 clinics have come on board the MMA HPV Vaccination Programme for Teens to lend a hand in the fight against cervical cancer and partnerships with further clinics are being negotiated. To obtain a list of participating clinics closest to where you live, please dial toll free number 1800 22 8688.
Log on to the programme Facebook page at http://www.facebook.com/MMAHPVVaccinationProgrammeforTeens to obtain more information. A hotline number (1800 22 8688) has also been set up to facilitate questions revolving around cervical cancer and the MMA HPV Vaccination Programme for Teens where the public will be advised on these and other related topics by a qualified nurse.
During the talk, the participants are all very attentive. I guess we are all shocked with the images and facts shown to us. Cervical cancer is the third most common cancer occurring in women, after breast and colon cancer.
I tell you, I got so frightened that I went straight to a clinic on Monday (this workshop was held on Saturday) for a pap smear liquid based cytology, scan and breast examination. If you followed me on Facebook and Twitter you would have known how horrified I was when the scan revealed I have PCOS instead! But I won't touch on that issue now…
I have yet to receive the result of my pap smear at the time of writing this entry but I've already discuss with my doctor on my options to prevent cervical cancer.
After the talk by Dr. Yap, we adjourned for lunch.
After that exhausting treasure hunt, all I wanted to do actually is to just take a cold bath and SLEEP! But I did not get to do that as we have more activities planned ahead for us.
I was too tired to eat anything but the sight of fruits is so refreshing I just had to have some! *called Ethan again and he told me Darling brought him out shopping :D*
After lunch, we were treated to a demo and trial session by Origins and Victoria Jackson. We are very privileged to be the FIRST to preview Origins' Plantscription range and anti-aging eye treatment while Victoria Jackson provided tips on how to attain alluring natural looks with their array of make-up.
Origins' Plantscription range and anti-aging eye treatment
Skincare demo session
Victoria Jackson make-up tips
The BEFORE and AFTER look of the model (volunteered by one of the daughters in the crowd)
And then we go for tea break. Eat again?! I took some laksa and red bean before proceeding to the pampering skincare session.
We were given an instruction leaflet on how to correctly apply Origins skincare product that also doubles as a firming and lifting massage.
Nuffies and bloggers doing the firming and lifting massage :D
Mommies had it best that day with their daughters pampering them with the firming and lifting massage using Origins Plantscription range.
After the skincare pampering session, we got a chance to be made-up by the make-up artists of Victoria Jackson.
Next is the announcement of the winners for the treasure hunt held earlier today whereby the top 2 prizes comprise of RM150 worth of Victoria Jackson product for the FIRST place team and RM140 worth of ORIGINS product for the SECOND place team.
My team did not win the top 2 prizes -_-
Last but not least, a group picture before we depart late in the evening…
Junie Wong and her mom Janice Cheng, showing off the Victoria Jackson make-up set they won for coming up FIRST in the treasure hunt @_@ *envy max*
Jia Yi with the eye-shadow set she got in the goodie bag.
It's already late at almost 7pm. I called Darling one more time to inform him that I'm going home…
//
//
//
//
//
//
//
//
//
//
//
//
//
//
//
//
//
//