Zuan Yuan : 'I Love Hong Kong' at One World Hotel
Where were you on Mid Autumn evening? Were you having dinner with your family and loved ones? Did you join the kids playing lantern?
As for us, we were at Zuan Yuan Chinese Restaurant, located at the lobby level of One World Hotel. Together with several other foodies, we were there to review the 'I Love Hong Kong' promotion that will take place from 1-31 October 2011.
Zuan Yuan Chinese Restaurant
Known as the culinary capital of Asia, Hong Kong offers gourmet lovers never-ending pleasure and excitement. Inspired by the eclectric Cantonese cuisine found in this food paradise, Chef Michael Chew deftly prepares a superb menu to tantalise our senses.
Chef Michael Chew
Our appetiser for that evening were Poached Bitter Cucumber "Sze Chuan" Style and Sea Conch with Cucumber in Wasabi Sauce.
Poached Bitter Cucumber "Sze Chuan" Style (RM12/per portion)
Don't let the menu fool you. I was afraid to try the BITTER cucumber but to my surprise it was not bitter but REFRESHING! The cucumber was crunchy and seriously appetising. The chili paste is fragrant and oh so inviting! I just can't have enough of this. But of course Ethan did not have this as the "Sze Chuan" toppings are a tad too spicy for him :D
Sea Conch with Cucumber in Wasabi Sauce (RM18/per portion)
A conch is a common name which is applied to a number of different species of medium-sized to large sea snails or their shells. Basically we are eating snails here. Fret not, they are very pretty looking and taste even better! :P
Wasabi, my favourite! Immediately I told Ethan, "No, you can't have this too as it will sting your nostril that you'll jump through the roof" BUT.. *yeah again* BUT…. to our delight, the wasabi used is not of the spicy but sweet type.
Instantly this became Ethan's favourite. He loves cucumber and will have a whole Japanese cucumber each day so you can imagine his delight having this dish presented in front of him. Crunchy, cold and soothing, it is just right to start our dinner.
Double Boiled Black Chicken Soup with Dried Scallop and "Chong Cao Hua" (RM20/per person)
When this soup was presented to us, I heard somebody whisper, "Black Chicken!" and that got me excited. Nothing beats having black chicken soup on a cold, rainy evening.
And it was perfect! This has got to be one of the best soup I've ever tasted! The soup exudes strong flavour of both the chicken and dried scallop yet is not at all pungent. Served in clay pot, I initially requested for ONE to be shared with Ethan but after tasting it, decided to get another for myself as the little one refused to share! >_<
He was SLURPING so loud I was like *palm face* whispering, "Boy, mind your manners" and that got everyone chuckling as they saw how much he was enjoying his soup! The soup got him busy the entire evening as he was savouring each and every single drop of it!
Wok Fried Tiger Prawn with Special Sauce (RM28/per prawn)
I am very intrigued by the creamy sauce. I dipped my spoon in it, licked it and at once loving the cheesy, rich and very spicy sauce! Very SPECIAL indeed!
Braised Chicken with King Soya Sauce Served in Clay Pot (RM20 per 1/2 bird)
What is a Hong Kong dish without the bird/chicken right? The braised chicken is deliciously done. The meat is very tender and the sauce goes extremely well with our steamed rice.
Braised Cod Fish with Morel Mushroom (RM32/per portion)
So who doesn't know that Submerryn is a fish person? Serve me fish and I'll flash you my pearly white teeth for all to see. One look at the braised cod fish and I know this will be a good one and I am right! The cod fish is still very moist and each flake is well coated with gravy. The gravy goes well with our rice too! *there goes my NO RICE policy* >_<
Braised Bean Curd with Egg and Tomato Sauce (RM22/per portion)
You know bean curd is good for you right? The soft and supple texture of the protein rich bean curd coupled with egg and tomato sauce is simply delicious. If you are dining with kids, this has GOT to be the perfect dish!
Assorted Diced Sea Food with Crispy Rice in Lobster Soup (RM13/per person)
Baby food! LoL! That was our first impression of this dish. I love the crispy chunks of rice that give this dish an interesting bite. But you know what? Though we laughed at it being baby food, Ethan did not fancy this dish I ended up finishing it all up myself. o.O
Black and White Sesame Glutinous Rice Cake (RM12/4 pcs)
Our dessert is very unique! I thought this was the usual steamed layered cake that usually comes in red and white but boy was I wrong!
The black and white sesame glutinous rice cake is simply out of this world.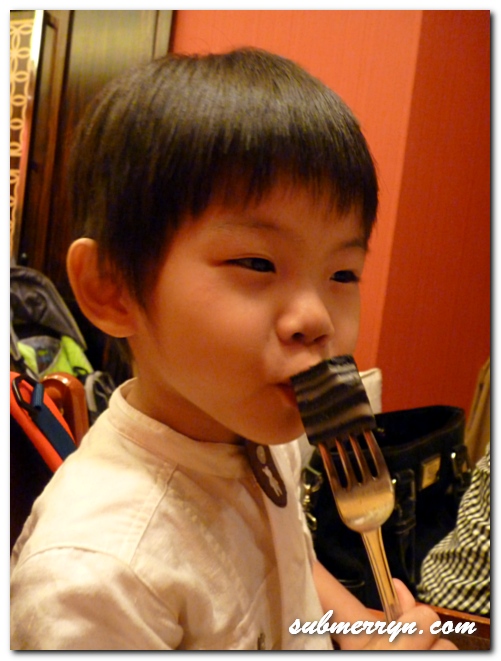 Ethan loving every bit of the springy dessert, he had two of those!
Mango and Avocado "Ying Yang" Style (RM12/per portion)
This is just the perfect ending to a delicious dinner. The nutty flavour of the avocado blends really well with the sweet and fragrant mango.
Honey glazed chicken with deep fried ginger
Oh yeah, before we left, Chef Michael Chew treated us to his signature dish – Honey glazed chicken with deep fried ginger. Oh em gee! This got me sitting on the edge of my sit as I simply LOVE the deep fried ginger! The sweet and savoury chicken is needless to say, very delicious but what caught my attention was the deep fried ginger. I can just munch them like snacks! It frustrates me as the plate goes round and round the table for others to sample.. I just can't wait to grab more of those ginger!
I'm already putting this in my list of must have 'confinement food' should I need them in the future :D
So that was our dinner on that lovely Mid-Autumn night. You too can savour all those when the "I Love Hong Kong" promotion takes place in Zuan Yuan, One World Hotel this coming 1-31 October 2011.
Zuan Yuan
One World Hotel
First Avenue
Bandar Utama City Centre
47800 Petaling Jaya
Selangor
Tel : +603 7681 1111
//

//

//

//

//

//

//

//

//

//
//
//
//
//
//
//
//
//
//
//
//
//
//
//
//
//