Zing (Lai Ching Yuen), Grand Millennium Kuala Lumpur
Call me up for Dim Sums in the morning and most likely I'll say NO as I can never get up and go on time! Make it Dim Sum for brunch and I'm sure to say YES! :D
So that was what we did on that lovely Saturday afternoon. We met up at Zing (now renamed to Lai Ching Yuen), Grand Millennium as their dimsums are gaining popularity lately.

Grand Millennium Kuala Lumpur
160 Jalan Bukit Bintang
55100 Kuala Lumpur
Malaysia
T: +60 3 2117 4180
F: +60 3 2145 7876
Facebook – http://www.facebook.com/ZingKL
Hotel Website: http://www.grandmillenniumkl.com/
Global Website: http://www.millenniumhotels.com/
Grand Millennium Kuala Lumpur signature Chinese restaurant – Zing (non halal) combines an authentic Cantonese menu with light, creative oriental cuisine and places a strong emphasis on the daily Dim Sum made live on the open kitchen led by Master Chef Leong Weng Heng together with dim sum Chef Thye Yoon Kong and staff.
The interior is reminisence of Shanghai in the 30s.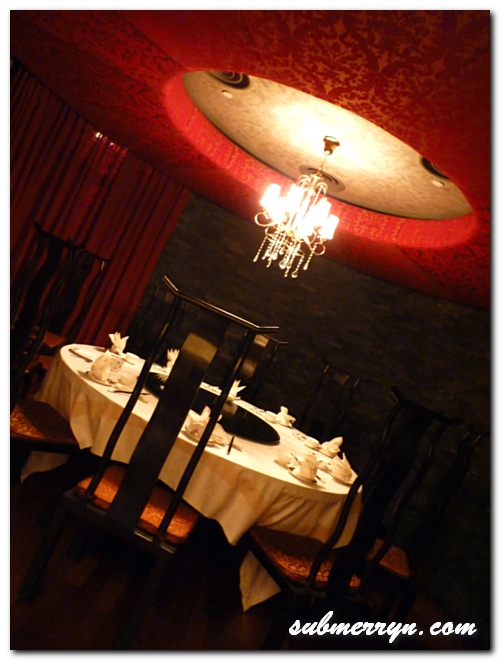 Lovely private dining rooms.
Contemporary cream-coloured armchairs and long, curved settees with comfortable cushions. The lamps are conversation pieces, comprising a 'scale' balanced on one end by the soft glow of a dragon and phoenix lampshade and a Chinese writing brush on the other.
Traditionally, Chinese kitchens are usually in the back but at Zing, a Dim Sum station is located right at the entrance.
The sight and aroma of  baskets and baskets of steaming dumplings in the open kitchen are enough to whip up one's appetite.
And then the fun begins. Endless varieties of dimsums were served one after another…
Xiu Mai with Fish Roes
The xiu mai with fish roes is undoubtly very luxurious. I love the bouncy fillings of shrimp and pork or even chicken (it's up to your liking). Oooh and the generous topping of fish roes is simply awesome!
Pan Fried Buns
A bite of the crispy layer reveals the delicious sweet and savoury fillings inside. Yums!
Wu Kok
The "Wu Kok" or yam dumpling is one of the must-have items whenever we go for dim sum. The crispy crust and yummy filling is simply delicious.
Wu Kok with fish roe
We love the yam dumplings very much that one just ain't enough for us we had to have the entire platter *and this time with fish roe toppings*! :D
Crystal Seafood Dumpling
The crystal seafood dumpling's transparent, chewy skin covering the succulent jewels inside is amazingly delicious. A bite into the glassy pocket reveals more seafood!
Poached Wanton with Spicy Sauce
The poached wantons are a delicious twist of classic dumplings with an added kick of spice.
Shark's fin dumpling soup
When we requested for soup, never in my right state of mind do I expect to be served a huge bowl of luxurious broth! Ethan and I, being soup lovers love this to the max! I love the scallop and prawns but seriously won't mind if they omit the dumpling from the soup though..
Pan Fried Radish Cake
This dish is also known as fried carrot cake, is a very popular hawker food with a dark coloring due to the generous amount of dark soy sauce used when frying the radish cake. A must-have when I visit any night market and am extremely over-joyed to find that the one they served here is just as sinfully delicious as the ones I got in the night market :D
Vinegar Pork Trotter
The vinegar pork trotter is one of the typical confinement dishes offer to new mommies among Chinese community as it is said the calcium in the bones and the heat from the ginger helps to revitalise and replenish nutrients in the new mother's body.
When I was carrying Ethan, I made sure my Mom learns how to prepare this dish for my upcoming confinement! After my delivery, I had this dish on every alternate days and what amused me the most is how my waist actually shrinks each day after having this! Salute to my Mom for her dedication in preparing this for me so having this dish here in Zing reminds me of those sweet moments four years ago.
What's more, the vinegar pork trotter in Zing is very thick and wholesome. A sip of the thick and tasty broth makes me want to go through confinement all over again!
Loh Mai Kai
I'm not really a fan of Loh Mai Kai as the glutinous rice is starchy when cooked, and thus it can be very filling. Since I'm trying my best to cut down on rice, to have this dish is simply disastrous to my diet! But Ethan loves Loh Mai Kai so I got some for him. I had to taste it before letting him have it and found that it has a super soft texture. While I'd prefer it to be more chewy, Ethan loves it this way and I guess it is easier for the little one to have the loh mai kai this way :)
Chee Cheong Fun
The steamed rice roll with minced meat is another favourite of ours. Topped with braised preserved vegetable in a soy sauce this is delicious we had second helping of this.
Char Siew Bao
No dim sum meal is complete without having char siew bao, a Cantonese barbecue-pork-filled bun.
Pan fried dumplings
Crescent moon-shaped dumplings filled with ground meat, crispy on the outside and tasty inside. Enough said :D
Durian tarts
When I heard that they have durian tarts, I just have GOT to have it! Me is DURIAN monster! So when they finally served the durian tarts, I just can't wait to get my hands on them and even more anxious to pop those alluring tarts into my mouth!
These durian tarts crumble and melt in my mouth and I just LOVE the luscious and gooey caramelized durian filling inside!
Egg tarts
While everyone else is raving about the egg tarts, I found it a BIG mistake to have this AFTER having the durian tarts. The durian tarts just over-whelmed the egg tarts that I find this to be so bland! I should have drank a glass of water before having the egg tarts… but guess what I did? I had MORE of those durian tarts instead as I just love the lingering durian flavour in my mouth :D
Ethan having watermelon juice in between each dumplings. Tsk tsk…
Zing Chinese restaurant (now renamed to Lai Ching Yuen) (non-halal) is located on level one of Grand Millennium Kuala Lumpur, open seven days a week and serves lunch from 12 noon to 2.30 pm and dinner from 6.30 pm to 10.30 pm.
Saturdays, Sundays and public holidays, Zing opens for dim sum brunch from 11.oo am to 2.30 pm.
//
//
//
//
//
//
//
//
//
//
//
//
//
//
//
//
//