Red Carpet Avenue Carnivale
Encorp launches Red Carpet Avenue in conjunction with Malaysia Day on the 16 September 2011. Inspired by the famous Champs-Elysees in Paris, Encorp Berhad's Red Carpet Boulevard is the longest alfresco boulevard ever built in the Klang Valley. The Red Carpet Avenue has been crafted by world-renowned French architect Nicolas Ayoub with a contemporary twist.
Dubbed Carnivale, the event was in collaboration with Celcom Axiata Berhad, the main event partner.

So we got the invites to attend the launch

Registered and collected the media tag in order to get better access
The Malaysian Dance Performers
The curtain-raiser at the launch featured a fusion Malaysian Dance Performance
followed by a street parade with top school bands (where world drum battle champions Battery Headz were also featured) and cheer groups.
Revisiting true Malaysian pride, a story on Malaysia's achievements over the years was told through the remarkable video projection mapping technology.
The highlight of the carnival was the Ikhlas concert, the brainchild of renowned composer and music director Roslan Aziz, which made its debut in 1991. The Ikhlas Tapi Jauh compilation album has been a huge success and one of the most successful concerts.
Among the artistes who performed included Reshmonu, Bunkface, Aizat, Joe Flizzow, Atilia and Bettery Headz as well as guest performer Amir Yusoff.
The carnival ended with a countdown to Malaysia Day and colourful fireworks display. *Pic taken from their FB page here*
YB Sen Dato Sri Effendi Norwawi with Deputy Prime Minister YAB Tan Sri Dato' Hj Muhyiddin Hj. Mohd Yassin and Dato's Sri Shazalli Ramly, Chief Executive Officer of Celcom Axiata Berhad
The emcee for the night is the ever stunning Yasmin Yusoff. The show must go on despite the drizzle that was threatening to pour that evening..

"Carnivale is a unique experience because it blends two exciting elements that have a common ground – celebration. Red Carpet has been designed to celebrate life and what better way to celebrate Malaysia Day at our grand launch. It is a special day for all of us as Malaysians,"said Encorp's Executive Chairman and Group Chief Executive Officer, YB Sen Dato Sri Effendi Norwawi.
Deputy Prime Minister Tan Sri Muhyiddin Yassin represented Prime Minister Datuk Seri Najib Tun Razak at the event
"Being a proud Malaysian company, Celcom takes this opportunity to unveil The Cube, a multimedia branded channel created to fulfill consumers' need to access content on any device while on the move, at home, at work or at play," said Dato' Sri Shazalli Ramly, CEO of Celcom Axiata Berhad.
I've been wondering what the heck The Cube is for the past week as I've seen it transformed Nuffies into square headed freaks :P Watch this if you don't believe me!!

So it's a relieved that the mystery is finally revealed…
The Cube
The Cube is currently exclusive to all Celcom customers. This channel also integrates incredible music and entertainment content and offerings with social networking services such as Facebook and Twitter as well as provides email convenience with Gmail, Yahoo!, MSN and Nokia Ovi.
Get hooked to this new channel via the mobile phones by simply dialing *8883 or key in http://m.thecube.my into your mobile web browser, or surf comfortable on a larger screen through The Cube website www.thecube.my
Saving the best for last, look who I spotted at the launch? My favourite former Mix.FM radio announcer Non and his beautiful wife Daphne with the very important person, Alexander Ayoub.


Daphne, Non and Alexander Ayoub (son of  architect Nicolas Ayoub)
and then we adjourned to the soft launch of The Tranquerah, for some authentic Melaka Nyonya cuisine at Lot U-62A-G, Red Carpet Boulevard, Encorp Strand where more celebrities awaits..
Gorgeous like a doll Emily Lim Pey Chi looking ever so stunning in the Nyonya Kebaya.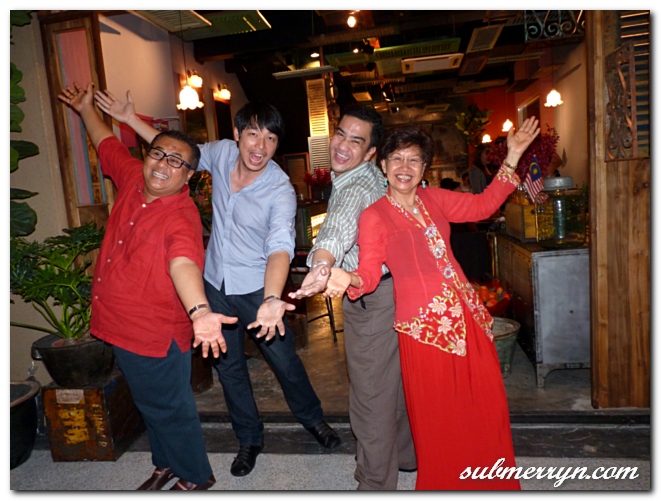 Chef Dato' Ismail Ahmad, Alan Yun, Chef Zam and Aunty Florence Tan
The Nyonya me and Aunty Florence Tan :D
That's all folks for the Red Carpet Avenue Carnivale report.
Full entry on The Tranquerah coming right up. Stay tune!
Related Posts
//

//

//

//
//
//
//
//
//
//