How to put on fake nails
My professional manicure done at home in under 5 minutes :D
As a homemaker and a craftier, I always end up with ugly nails. I can never grow them long enough without chipping.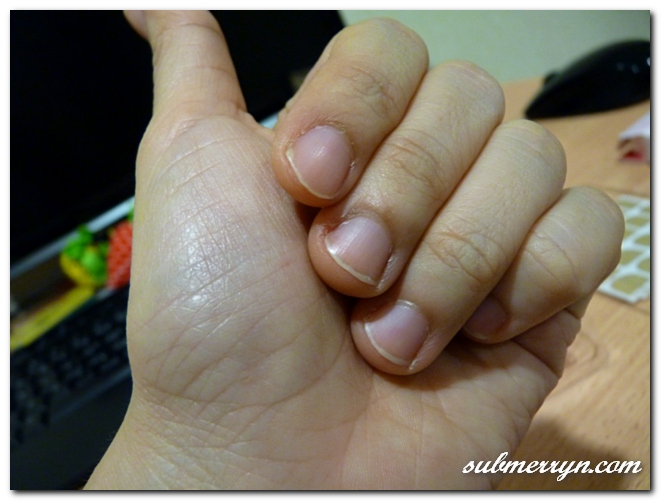 I can never grow them long as they'll be in the way of my work. So I have to live with ugly nails… @_@
Fake nails
I was at a pharmacy today and saw some amazing set of fake nails but they are so darn expensive. I almost wanted to get them but decided against it as they are just too expensive for a beginner like me. Since I have never put on fake nails before I am not going to spend a fortune on them only to end up ruining them!
Then I went to Daiso and saw even prettier looking fake nails and what's more, they are only RM5! Without hesitation I grabbed a box!
Artificial nails from Daiso
Nail tips seal
Initially I got the nail glue but I am afraid that I'll ruin what is left of my already damaged nail further so I opt for the nail tips seal instead. Though it wont be as long lasting as the nail glue, it will make them stay..
I started by finding the right size nails by checking them against my own nails. They should cover the nails without hanging over the sides.
Right size artificial nails for me :D
I attached the adhesive seal on the back side of the artificial nail.
I removed the seal and adhere the fake nail onto my own nail. Nice? I love it! But I find it not strong enough so ..
I placed the adhesive on my nails too! So now I have adhesive on BOTH the artificial nail and MY own nail! @_@
Remove the seal..
Placed the artificial nail onto my own nail
And PRESS!
I got all five fingers done in under 5 minutes! That is a record time I tell you! I'll never paint my own nails again!
I did light housework with those nails and they stayed! Good nails! haha… but of course, I can't be mopping the floor with those! >_<
P/S: The fake nails can be reused if we use the adhesive seal but not when nail glue is used. If you used nail glue, you'll need to get the glue remover to dissolve the nail glue to remove it.
//
//
//
//
//
//
//
//
//
//
//
//
//
//
//

//

//

//
//
//
//
//
//
//

//