Snorkeling at Redang Island
Our 3D/2N Redang trip is inclusive of 3 snorkeling trips – twice at the open sea and once at the Marine Park. Rental of life jacket and goggles are at RM15 respectively. RM5 Marine Conservation fee per person is to be paid for the Marine Park visit.
We went for the open sea snorkeling trip first. We did not bring our camera with us to the open sea hence no pictures of the journey whatsoever. However, we got our pictures taken underwater by the photographers there. We paid RM5 for each pictures that we like. Ethan did not go down for the open sea snorkeling. The large open seas is a little over-whelming for the little guy…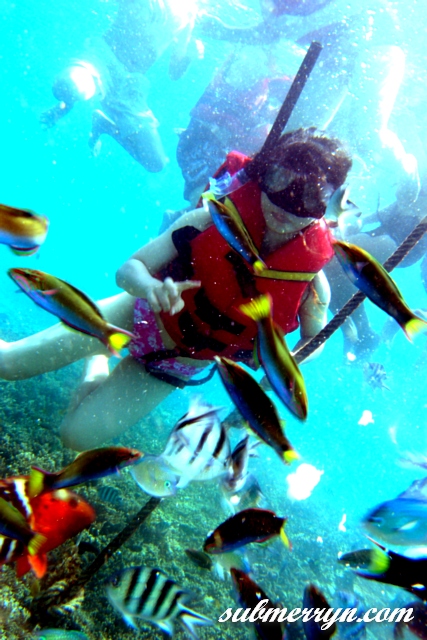 Here's da Submerryn attempting an underwater pose! Say 'Cheese'! Click!
Here's Darling having his 'parts' eaten by the fish! Hehehehehehe… Ticklish-kah Darling? :P
And then he tried to be Superman and got rid of his goggles and tried opening his eyes in the saltwater! Hah! This is the result! Tsk tsk…
Then the next day, we 'One-Happy-Family' went to the Marine Park. This time we brought along our camera :D
Ethan getting on board the boat. It took 15 minutes from Laguna jetty to the Marine Park.
He had fun throwing bread into the sea and watching fish eating them until the fish came too close…
Then Darling had to take over as Ethan doesn't like the ticklish feeling of the fish nibbling his feet.. haha…
The higher Darling carried him, lagi clear he can see the fishes! Lagi he geli…
Lagi jadi koala… clinging on for dear life..
Hehe.. I'm so bad. I told him if he clung on to Daddy like that the fish will jump and bite his backside… Sigh.. LAGI-LAH he SCARED!!! @_@
So fish doesn't fascinate him. Too big and too ticklish he said!  Should have just shove a muray eel to him! >_<

So Darling went snorkeling in Marine Park while I played sand with Ethan. The sand at Marine Park is not as fine as the sand at Laguna but still okay.
Back at Laguna Redang Island! He loves best playing the fine, white sand.. The sand is so fine and fluffy, I love it too! :D
Darling playing with Ethan.
I made him a sand birthday cake as he will be celebrating his birthday end of this month. My boy's turning 4 soon! :D
He loves his cake so much he wanted a hug! Aww.. <3 <3 <3
Then suddenly he turned and.. MUACKS! He gave me a KISS! Awww….. *heart-melt*
Love you so much Ethan! We had lots of fun on the beach and wish that it will never end…
Coming up next – Darling went scuba diving!
Check out our earlier post on Laguna Redang Island Resort here.
Before I go off, check this out!
Boo! Hahaha… Ini-lah kerja Darling! :P
Related Posts
//

//

//

//

//

//

//

//

//

//

//

//

//

//

//

//

//

//

//

//

//

//

//

//

//

//

//

//

//

//

//

//

//

//

//

//

//

//

//

//

//

//

//

//

//

//

//

//

//

//

//

//
//
//
//
//
//
//
//
//
//
//
//
//
//
//
//