Scuba Diving in Redang
It was Day 2 in Redang. The weather was fine and the sea was calm. Darling decided to try scuba diving..

So we took a slow walk along the bridge leading to the diving site.
The diving rates. Since Darling is just 'discovering scuba' and will be diving with no license whatsoever, he was charged RM160 for equipment and coaching. I wanted to try too but the gas tank is very heavy hence I chickened-out :(
They assisted him in putting on the diving gear.
There goes the heavy gas tank. There are several sizes of gas tanks available (with the same pressure) to suit your size but I still find them heavy! @_@
Darling adjusting his goggles.
Here he was taught how to breathe using the mouth piece. It is not easy to suddenly breathe through your mouth instead of your nose but he got the hang of it after a while :) *Gigit bang, jangan tak gigit! *
All geared up and down he went. He was also taught how to 'float walk' in the bottom of the sea. It's like walking on the moon?! Macam-lah he pernah walk on the moon! >_<
About an hour later, he resurfaced! Yeay! Darling is back! Phew.. *wipe sweat* By then it was already getting dark. He gestured the thumbs up sign means he's happy-lah!
Asked him what he saw under the sea and he answered he met a mermaid, siap asked  for her FB lagi! Mau kena lepok my Darling nih!!! (=_=)
Contented with his underwater experience…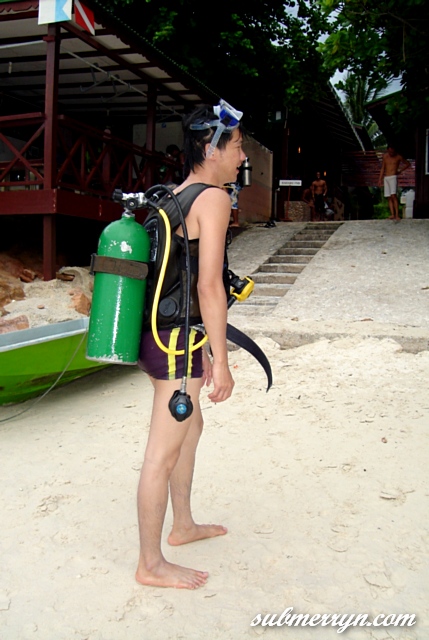 Ready to take the equipment off his back :D
A very happy Darling :D Dah! Now let's go for dinner! :P
Related Posts
//

//

//

//

//

//

//

//

//

//

//

//

//

//

//

//

//

//

//

//

//

//

//

//

//

//

//

//

//

//

//

//

//

//

//

//

//

//

//

//

//

//

//

//

//