Ramadhan Food Review : Berbuka Puasa Fiesta at Fuzion, Sunway Resort Hotel & Spa
Ai bertuah benar dijemput untuk satu lagi review makanan Ramadhan. Kali ni kat restoran baru Sunway Resort Hotel & Spa, Fuzion.
I was privileged to be invited for yet another Ramadhan food review. This time we relish in a nostalgic feast after the fast at Sunway Resort Hotel & Spa's brand new all-day dining outlet, Fuzion.
Ethan @ Fuzion, Sunway Resort Hotel & Spa
Fuzion, Restoran baru Sunway Resort Hotel & Spa.
The brand new all-day dining outlet Fuzion, Sunway Resort Hotel & Spa
Pelbagai kegemaran tempatan tradisional, hidangan mewah antarabangsa menyerlahkan setiap senja di restoran kontemporari di mana pemandangan, bau dan bunyi bersama-sama meraikan bulan yang mulia ini.
Wide array of traditional local favourites, sumptuous international delights highlight every sundown in this contemporary restaurant where sights, smell and sounds come together to deliver a feast for the senses.
Stesen 'Live' di teres luaran di samping buffet kat tempat makan kat dalam restoran.
Live' action stations dot its outdoor terrace, in addition to the widespread buffet dominating its indoor dining area.
Dengan 6 menu pada rotasi yang mempersembahkan pelbagai salad, pembuka selera, sup, santapan panas utama, kuih muih, buah tempatan, minuman segar dan banyak lagi, kite di jamu dengan pilihan yang menarik waktu review tu.
With 6 menus on rotation that feature a wide array of salads, appetisers, ramadhan chips, nuts, pickles, soups, hot dishes, pastries and more, we were treated to a selection of interesting dishes during the review.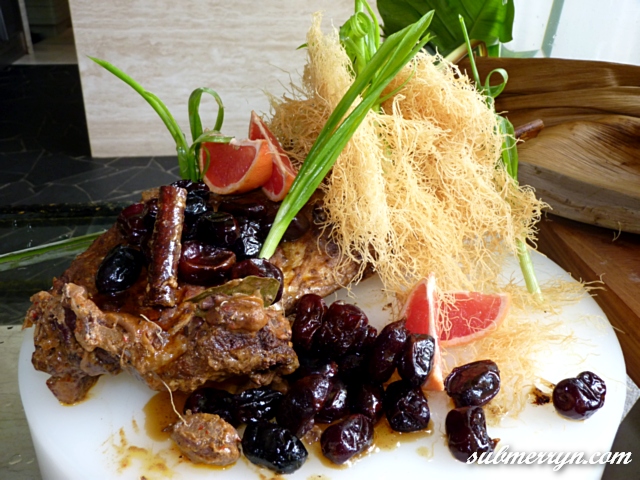 Kambing buah kurma bakar. Apa lah Ramadhan kalu tak de kambing dengan buah kurma kan? Gabung kan depa berdua, oooh la la, sedap daging tu!
Baked lamb in date cumin gravy. What is Ramadhan without lamb and dates right? Combine them together, resulting in explosively delicious lamb!
Udang galah sambal tumis. Aduh, sambal tumis! Kalu ai balik kampung, mesti ai sapu habis sambal tumis. Kite kat Sunway ni, makan pun class gitu ada udang galah yo! Yuk makan, jangan tak makan!
River prawn sambal. I love my mom's sambal back in my hometown. Here in Sunway, I indulged in luxurious dining with river prawn dish! Come, let's eat!
Ikan patin gulai tempoyak. Ai ni kan, kalu korang sebut je durian, mesti meleleh air liur. Gulai tempoyak ni ai makan dengan nasi putih, sedap!
Braised pengasius fish in durian paste and chilli padi tamarind gravy. Mention durian to me and for sure I'll salivate. I had this with steamed white rice, heavenly!
Daging goreng 1960. Daging ni zaman mak bapak ai :P Rasa macam makan kenduri pulak waktu ai santap daging goreng ni. Meriah sungguh rasa-nya.
Nostalgic stir-fried beef with galangal and soya sauce. This hearty dish adds a whiff of festivities in the air :D
Ayam masak kicap batang bonar. Ini ko mesti makan! Ayam nyer simple jer, ya lah, masak kicap tapi sedap! Lembut jer daging ayam tu. Anak ai pun bukan main shiok makan ayam ni!
Sauteed chicken with sweet soya sauce. This dish is outstanding! Eventhough simple, it is delicious! It is moist and tender and Ethan loves it to the max!
Serawa pisang. Kalu ko suka benda-benda manis, ini mesti ko cuba. Tambah dengan sup sago, mmm mmmmmmmmmmmmmm!
Sweetened banana and sago porridge soup. For those with sweet tooth, you've got to try this. To be eaten with the sago porridge soup, it's sinfully delish!
Kuih-muih : Onde onde, kuih seri muka, kuih lompang dll. Bila ko last makan buah Melaka? ai dah lama tak berkesempatan makan onde-onde. Nampak jer onde-onde kat sini, ai pun gasak lah lima biji! Lepas tu tambah lagi… shhh jangan ko heboh!
Ramadhan goodies : Onde onde, kuih seri muka, kuih lompang etc. When was the last time you had buah Melaka? It has been a while since I ate onde-onde. The first thing I did when I saw these, I took 5 of them. I came back for more later.. shhh dun tell anyone!
Pernah tak ko minum susu soya campur epal atau pisang? Hah! Ai dapat try deguk soya epal dan soya pisang nih. Soya epal tu okay jugak tapi yang pisang tu, mak oi… manis! Boleh tak nya, pisang kan memang dah manis?
Have you ever tried drinking soya and apple or soya and banana? I got to sample their apple soya and banana soya during the review. I find the apple soya not too bad but the banana soya to be a tad too sweet. As it is, banana IS a very sweet fruit, isn't it?
Harga buffet buka puasa Fuzion adalah RM128++ untuk dewasas dan RM64++ untuk kanak-kanak.
Diskaun istimewa dari 1 hingga 7 Ogos dan 22 hingga 29 Ogos 2011 untuk Fiesta Buka Puasa.
Fuzion's buka puasa buffet is priced at RM128++ per adult and RM64++ per child aged 12 years and below.
For a more rewarding experience, from 1 to 7 August and 22 to 29 August 2011, Sunway Resort Hotel & Spa is extending a 20% discount for its Buka Puasa Fiesta.
Fuzion
Sunway Resort Hotel & Spa
Persiaran Lagoon,
Bandar Sunway,
46150 Petaling Jaya,
Selangor Darul Ehsan.
Tel +603 7492 8000
Fax +603 7492 8001
//

//

//

//

//

//

//

//

//
//
//
//

//