How to make the perfect half-boiled egg
I love half-boiled eggs, don't you? I like it with some soy-sauce, pepper and sometimes fried onions! Really! To be eaten with toast, yums! Drool!
I can easily make the PERFECT half-boiled egg as I have this..
Eggmatic. 99.9% of my eggs turned out PERFECT! Once in a blue moon when the eggs are either a little too big or too small, the result is not so desirable but it is still okay.
Last week, I was craving for half-boiled eggs. Dunno why I was SUPER lazy to even take this Eggmatic out of my kitchen cabinet that I just toss a couple of eggs in boiling water and leave it there for three minutes. In case you don't know, the other way of making perfect hard half-boiled eggs is equally simple:
Make sure the eggs are in room temperature. Remove them from the refrigerator for at least half an hour. 
1) Bring a pot of water to a boiling state.
2) Turn off the flame and gently place the eggs in the pot.
3) Turn the timer to exactly 3 minutes (some very large eggs may require a little bit more time, say 3.5 minutes)
4) After the 3 minutes have passed, quickly remove the eggs from the hot water and run under cold water for 30 seconds to prevent further residual cooking.
So simple right? I did all that BUT…. I kinda forgotten about them and by the time I remembered, this is how the eggs look like..
Sobs! All I want is a perfect half-boiled eggs, is that too much to ask? :(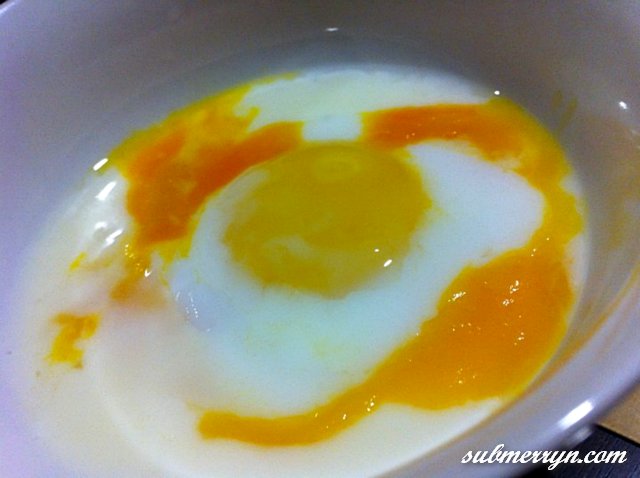 This is so in my mind right now. I think I'll have half-boiled eggs for breakfast tomorrow :D
//
//

//

//

//

//

//

//

//

//
//

//

//

//

//

//
//
//

//

//
//
//
//
//
//
//
//
//
//
//
//
//
//