Test Driving the New Myvi 2011
We were invited to test drive the New Myvi 2011 on their launch day – 16th June but I couldn't make it. Yesterday, we managed to squeeze in some time and without further ado, we hit the road..
Darling took the New Myvi 2011 for a spin first followed by me later. We were extremely curious as to what the new Myvi has to offer as the 2005 model has been the top selling model in Malaysia for five years!

He loves how the new Myvi steering weighs and feels.
The electric power steering is obviously more stable compared to the old Myvi.  The same ECU-controlled power steering system is also used on Toyota Vios and Suzuki Swift.
The new Myvi is wee bit lower but it made a whole lot of difference driving it. It feels less bouncy thanx to the new front dampers by Kayaba and rear dampers by APM suspensions. I've always dislike how the old Myvi kinda bounces like a jolly jelly bean on the road, so having a better control both as the driver and the passenger in the new Myvi is a welcoming change!
I simply love the dash-mounted gear shift. For a petite person like me, this is the change I've been dreaming of!
New Myvi 2011
Though in general the new Myvi has lesser boot space compared to the old Myvi by 17 litres, it is actually easier to load things into it as you can lift the back compartment all the way up as opposed to the old Myvi that can barely be lifted beyond 3/4 (picture below).
Old Myvi
The new Myvi 2011 also comes with a 3-point rear seat belts but what caught my attention is the roof mounted new center passenger belt. It functions as a full seat belt compared to just strapping your hips in the old Myvi.
Gorgeous meter combination with 3D effect
The new Myvi has a luxury looking projector headlamps.
A full colour 6-inch touch screen (available only for the Elegance spec).
Electric retractable side mirrors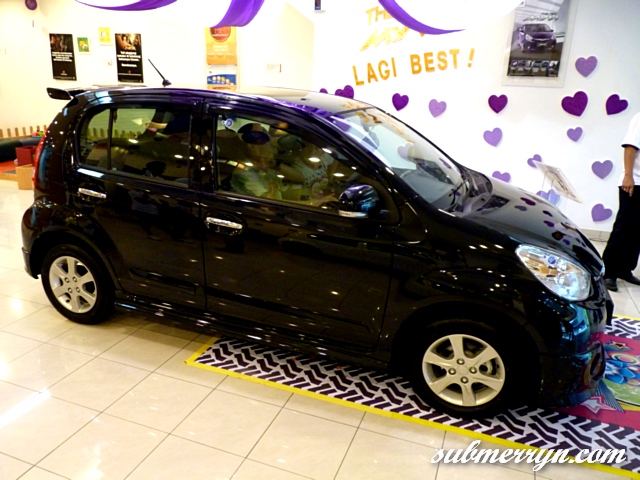 New Myvi 2011
New Myvi 2011 – Rear view
New Myvi 2011 – Ethan view! :D
Price starts from RM43,900 (Manual solid) to RM57,400 (Elegance Metallic)

Overall the New Myvi 2011 LAGI BEST! It's more fuel economical than the old Myvi running at RM0.14/km (based on current fuel price). Can't wait for the 1.5litre variant to be launced though! Waiting.. waiting..
//

//

//

//

//

//

//

//

//

//

//
//

//

//

//

//

//

//

//

//

//

//

//

//
//