Choosing the right lifejacket for kids
We are heading to somewhere for some SUN, SEA and BREEZE soon :D I remembered when we went there last time they don't even have proper lifejackets for kids. Even the lifejackets they have for adults are smelly and yucky. I remembered Darling saying the lifejacket he got then smelt of 'ketiak' (armpit)! @_@ *vomit*
It's very important for kids to have the correct fitting lifejackets so we went shopping for Ethan's lifejacket the other day. We did not know what to look for…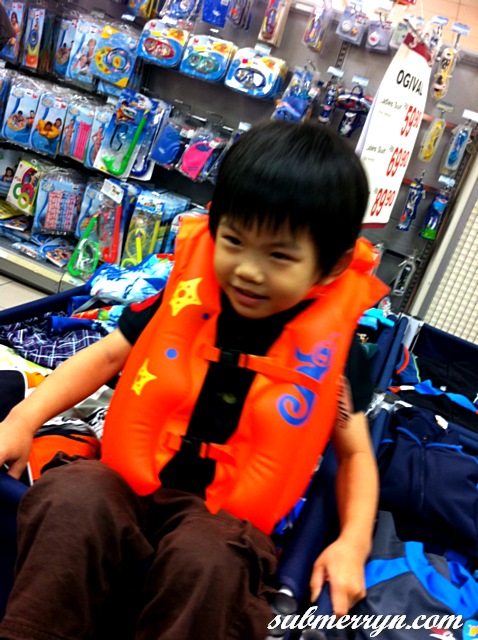 We got him to try on the inflatable life vest first.
Air only life vests are lighter but this type of lifejacket does not provide any buoyancy when it is not inflated. These jackets need to be inflated orally. You know how 'green' Darling got after blowing into the life vest to inflate it?  He ran out of gas and almost fainted! LoL! I'm also not too comfortable thinking what if it got caught in something sharp and became deflated? Horror!
We then made him try on the foam life jacket.
Foam lifejackets are usually bulkier, but they provide inherent buoyancy and may also help to keep the child warm and provide a degree of protection in the case of a fall. But I don't think this is bulkier as Ethan seemed comfortable in it. The best part is it has that extra strap in between his thigh to keep the jacket from floating out. I don't need to worry about deflation and Ethan says he loved it so we bought this! I can't really remember how much it costs but I think it is around RM45-50.
With that in the travel bag, we are so ready for the beach! But wait… we need to get some sunscreen!!!
Related Posts
//

//

//

//

//

//

//

//

//

//

//

//

//

//

//

//

//
//
//
//
//
//
//
//

//