Smaland, The Magic Forest
I've been eyeing IKEA's Smaland even before I had Ethan. I have always wanted to let Ethan play there but never have the courage to let him go mainly because I won't be allowed to enter with him.
A couple of weeks ago a sudden gust of courage swept over me. I brought Ethan to Smaland and asked him if he wants to enter. Of course he answered YES! I was worried as he will be going in ALONE! But my anak macam 'no hal' like that…
Smaland, The Magic Forest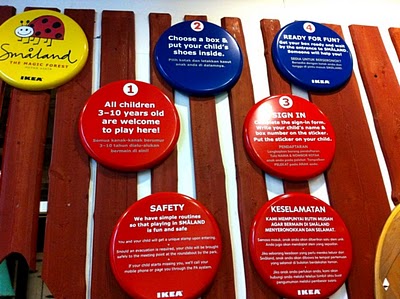 1) All children 3 – 10 years old are welcome to play here
2) Choose a box and put your child's shoes inside
3) SIGN IN.
4) Ready for FUN!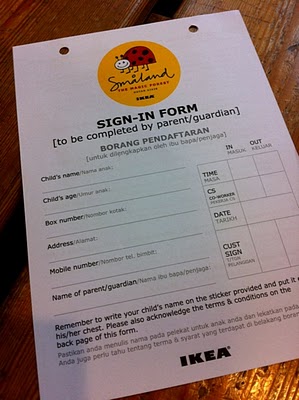 Sign-in form. Complete the sign-in form. Write the child's name and box number on the sticker.
Put the sticker on your child. Both you and your child will be stamped with a similar number.
The number is important when you are collecting your child. Only matching numbers are allowed to pick-up the child.
We usually go on weekdays to avoid the weekend crowd
Ethan having the time of his life
I waited outside.. NO I did not go shopping.. I just can't.. haha..
An hour later I picked him up from the Market Hall in Ikea; an hour of fun.. free of charge!
:D
Ikea Malaysia
2 Jalan PJU 7/2 Mutiara Damansara,
47800 Petaling Jaya,
Selangor
Tel – 03-7726-7777
Open Mon-Thu 9:30am-10pm; Fri-Sun 9:30am-11pm
//
//
//
//
//
//
//
//
//
//
//
//
//
//
//
//
//
//
//
//
//
//
//