Jennifer Lopez's twins, age 2, model for Gucci
I'm sure the majority of you knows who Jennifer Lopez is. If you don't, which hole have you been living in?

*surprised look!*
Jennifer Lopez became an overnight sensation after her revealing plunging sheer green Versace dress during the 2000 Grammy awards. She was with P. Diddy then. That was a decade ago but I remembered vividly the first time I ever saw her picture in that dress! I was like… OMG! And the guys all went, "Ooo La La!":D

And no, no wardrobe malfunction or whatsoever with that dress.
Is that butt for real? That is one really solid bumper! I'm ashamed to look at my own derriere now. I think I need butt implants!

:P
On February 22, 2008 Jennifer Lopez gave birth to fraternal twins, a girl and a boy, Emme Maribel Muñiz Lopez, and Maximilian "Max" David Muñiz Lopez. The twins were then introduced in the March 11, 2008 issue of People Magazine for which the magazine paid $6 million. 
Today, the twins Max and Emme have made their showbiz debut at the tender age of two and the half, as models for Gucci's clothing line for children. The American Idol judge's children with husband Marc Anthony, will appear on billboards and advertisements along with their famous mother, reported Daily Mail online.
The advertising campaign was shot by photographers Mert and Marcus on location in Malibu. It will break worldwide from November in magazines, newspapers, outdoor and online. As part of the campaign, the fashion house has also given $1 million to UNICEF's Schools for Africa and $50,000 to Lopez's Maribel Initiative.

"

As a mother, I am proud to be a part of this campaign to benefit UNICEF's Schools For Africa programme

,"

she said.
Lovely isn't it? That's what Star Power especially the A-List Stars can do for you. Big bucks in everything!
BUT…… before you go all green and envy her for her good life, take a look at the very recent picture below…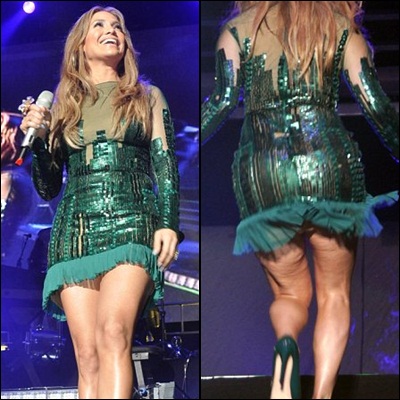 Putting aside the glam and all, she is, after all, only HUMAN just like the rest of us! Despite maintaining a healthy lifestyle and watching her diet, she still has not managed to escape the dreaded orange peel.
//
//
//
//
//
//
//
//
//
//
//
//
//
//
//
//
//
//