Beary NICE
For those who has taken a wild guess on my drink the other day, the answer is… jeng jeng jeng… "MILO KOSONG!"
:D
Most of you guys got it right
lah
. Slurp..
:)
Ethan and I were in 1U from morning till late evening today! My legs…. hurt :P
We were invited by Mike,
Craft Haven's
resident artist for a private demo cum workshop on working with Sculpey Clays. The participants were Ethan and I
:D
Oh I've ALWAYS loved clay! Ever since I watched GHOST, that sensuous clay scene.. I'm hooked on CLAY! If you don't know what I'm talking about.. watch this.. hehe..
:P
Unfortunately.. THAT is NOT what I learnt today
:P
Tee hee… No pottery… no Unchained Melody…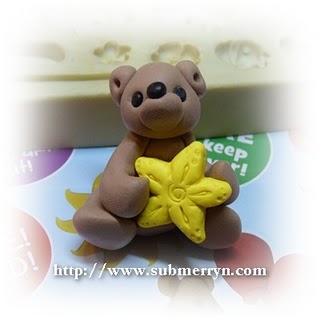 This however was what being created today. NO it was not done by me
:(
Next round… Next round I tell you, I'll show you a cuter bear or even a submarine done by ME!
The clays
Ethan trying to work with the clay
Not bad eh? I did the…… BIRD
:P
hahahahha… YEAH! I did the bird. NICE?
:P
Ethan loves the bear very much! Clays are so going to be the next installment for my
Studio
. Am getting really excited dy
:D
We recorded several tutorials today but am not going to put them up all here. They are for my
craft blog
entry.
However, you can have a sneak peak of what is to come. Here's a tutorial on color mixing for clay and those are MIKE's hunky pair of hands
:P
//
//
//
//
//
//
//
//
//
//
//