Moon Lapis
Was back in Malacca over the weekend.. After dinner we gathered at my uncle's house (
just behind my mom's place
) for some moonlight gathering
:D
Lanterns surrounded the entire garden
.
Beautiful BUT I do not know how to capture that beautiful sight at its BEST! Such a waste
:(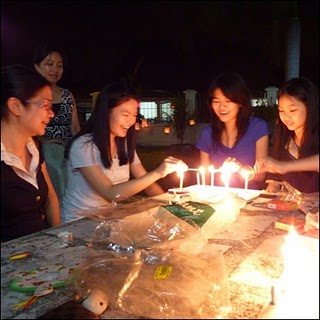 The girls having fun with the candles
Kuih lapis was served instead of mooncake. Eh, what happen? lol.. hence my post title – Moon Lapis
:P
It was fun chit-chatting like that though I only managed to be around like less than 15 minutes before I had to run back home to check on Ethan sleeping (
It was after all almost midnite!
)
The candles that they lit. They even shouted sang a birthday song to my BIL whose birthday happens to fall on September 11 of all day!
The cutest lantern of all!
They were standing like that when we had a great laugh saying that they looked like number 1 and 0 put together! That's my BIL – The number '0' of that 10 formation
:P
//
//
//
//
//
//
//
//
//
//
//
//
//
//
//
//
//
//
//