ParenThots Family Day 2010
It drizzled a little when we were about to leave the house but as we got nearer to location (
Padang Astaka, PJ
) it was bright and sunny
:D
By the time we arrived it was 9am sharp and visitors were already enjoying themselves around with the games provided.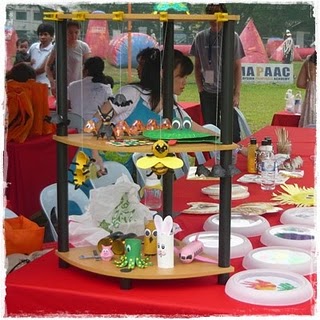 My booth
Kids turned up in droves for the Sunshine workshop. I eventually had to make a last minute change when we ran out of 'Sunshine' and kids who came later made Fish instead
:)
I met
Lil Kit Boy
and Mommy for the very first time there. Read about their experience attending ParenThots for the very first time
here
.
Picture 'stolen' from Kit Boy's blog :P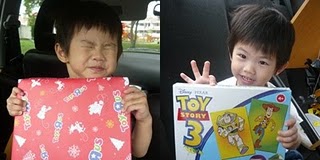 Lil Kit Boy and Mommy came prepared with gift specially for Ethan. It's Toy Story 3 Sand Art! Cool! Look how happy Ethan is! Thank you Thank you!
:D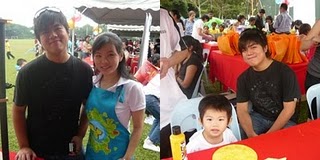 Oh yeah,
somebody
came much earlier and 'spied' on me
:P
He stood there watching without informing me while his
gf/wifey
busy tweeting the updates on Twitter!
Overall, the crowd to my booth more than doubled this year. I ran out of whatever resources I brought by 11.15am! I brought more than 100 paper plates yet all ran out in a blink of an eye. Next year, I'll bring in MORE!
//
//
//
//
//
//
//
//
//
//
//
//
//
//
//
//
//
//
//
//
//