IKEA Welcomes Kids
If I have to vote for a place that is the most '
Kid Friendly
' I'd definitely vote
IKEA
. It is built and designed with kids in mind. Every little steps you take in IKEA will lead you to something that of interest to kids. I've said it once and I'll say it again – IKEA is a kids' haven. I've blogged about
what to do and what to play there
. This time, I'm going to touch on the meal part of it.
Who else can think of the 'Family Trolley'? Only in Ikea can I find such innovative idea. I can get Ethan to handle that trolley while I handle the stroller. In other eateries, if I'm dining with Ethan alone it will be a hassle trying to carry the tray of food and handling the stroller at the same time!
This trolley comes extremely handy too when you are getting meals for the entire family. You don't need to have
as many arms as an octopus' tentacles
, you can actually stack the food on the multi level trolley and handling it is such a breeze
:)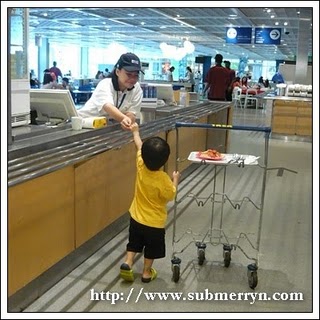 The staffs there are super friendly too and will take the time to entertain the little one's request of paying for his own meal
:D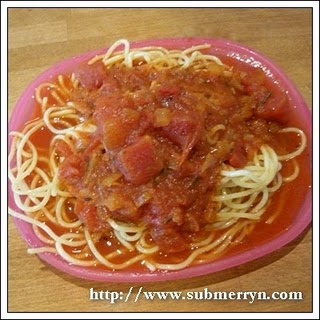 The kid's meal – Spaghetti with Tomato Sauce
Simple and yummy. The serving size is just nice for Ethan. He can finish the whole thing. In fact, the serving size suits ME perfectly well too! No wastage of food if I take the kid's meal
:P
But I know of that someone whose first thing to do on his list is to wallop the meatballs!
:D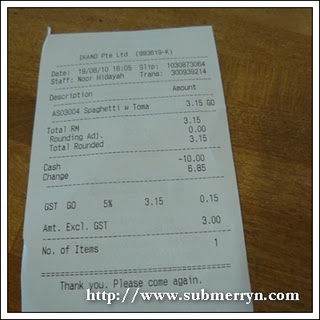 RM3 for a plate of spaghetti. Reasonably cheap.
He can't wait to finish his meal so that he can watch some tv.. That is why in IKEA Ethan ALWAYS finishes his meal, or else he won't get to watch tv!
:D
Finally after cleaning up his plate, he gets to watch some cartoon
I always choose IKEA if I know I'm going to be eating alone with Ethan without Darling. It's spacious and just – COMFY
:D
And NO, this is NOT a paid post, you people! *
roll eyes
*
:P
//
//
//
//
//
//
//
//
//
//
//
//
//
//
//
//
//