Portrait Artist In Sunway Giza
Hello peeps.. I am back! Didn't notice I was gone? Sobs.. nvm.. lol.. anyways..
We were in Dataran Sunway the other day for dinner. After dinner we took a short stroll to Sunway Giza as Darling needed to meet up with someone.
It is always nice to have a slow walk after a heavy meal. Darling, Ethan and I walking hand-in-hand. Ethan will always be in the middle holding our hands, looking up to us and say, "
One Happy Family
". My little precious….
muaks
:D
I love Giza for their gigantic ceiling fans. It really keeps the area breezy and soothing. I like the atmosphere there too. It can easily be Bangsar in no time!
As we walked we saw a huge crowd. Upon closer inspection… *side tracked a bit – I don't know about you guys but I always go to have a look if I saw a huge crowd gathering. I am always curious to find out what is going on*
My, my, what do you know? I saw a couple of portrait artists there. What's so special about them? Well, every artist is special to me BUT this time, one of them happens to be Darling's acquaintance. What? Hey, he's the guy Darling is suppose to be meeting up with!
While waiting for him, we managed to see him draw this cute little girl from the very beginning till the end. This little girl is seriously just too cute. She can really sit there with her adorable pair of round eyes looking back at him!
The beginning…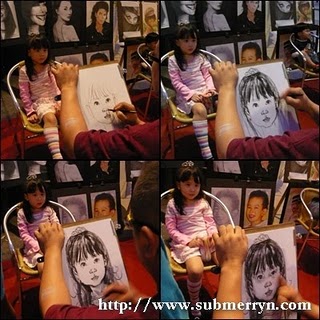 It was all done very quickly. In ten minutes!
Meet Collin, the portrait artist in Sunway Giza
:)
Too bad Ethan was sleepy and cranky that time or else I will definitely get his portrait drawn then! After all, it was way past 9pm already… Way over his bedtime!
:D
//
//
//
//
//
//
//
//
//
//
//
//
//