Ethan's first bicycle :D
We bought Ethan his first bicycle last week. He has never been on a tricycle yet was eager to get a bicycle!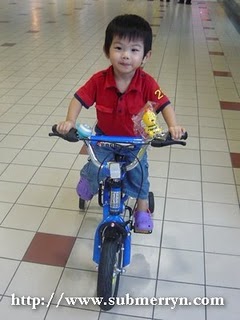 Testing it at the shop
:)
I personally think it's a very nice bicycle
:P
I requested for that bicycle bell and got it
FOC
:D
The bee horn is so cute and the tyres are actually real tyres that need air! I need to get a pump!
First thing he did the very next morning was ran down to greet the bicycle "Good Morning"
:)
He loves it THAT much! Watch the video
:P
This was unexpected. I was ready to capture him cycling when he told me this..
"Ethan sit then my
kukubird
tired.. "
That poor boy! What he meant was he stretched his legs until it hurt his 'u know where' … @_@
//
//
//
//
//
//
//
//
//
//
//
//
//
//
//
//
//
//
//
//
//
//
//
//
//
//
//
//
//
//
//