Throat and Tongue Ulcer
Today marked the 6
th
day Ethan is suffering from high fever. He has not been eating much. He totally rejects porridge. He rejected porridge since 12 months old and has been rejecting it until today. He doesn't seem to be wanting his milk too.
Every time
he is sick, I'll temporary switch his milk to lactose-free type. I use
Isomil
EyeQ
Advance.
So today we brought him to the paed again as it is way too long to be having fever. There, we discovered something. We discovered that Ethan is having throat and tongue ulcer. Darling had discovered that Ethan has had tongue ulcer since yesterday, but we never expect him to have throat ulcer too! Poor boy. No wonder it is so difficult to make him eat!
Can you see his ulcer?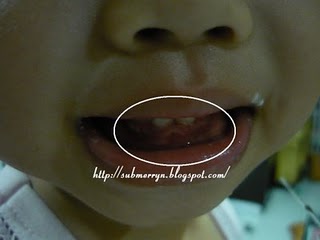 His gums are swollen too. And since he is rejecting porridge and all, I tried giving him alphabet pasta in home made soup.
What I did was to boil some chicken bones, ground nuts and barley. Strain them to get just the liquid. Blend lots of tomatoes and some carrots and add them into the soup. Some salt for flavour. I throw in some corn into the soup too as Ethan just love corn soup too much. Cut some carrots into fancy shapes and serve them with the ABC pasta. You don't know how loud my sigh of relieve is when Ethan finishes the whole thing!
//
//
//
//
//
//
//
//
//
//
//
//
//
//
//
//
//
//
//
//
//
//
//
//
//
//
//
//
//
//
//
//
//
//